One of my favorite things about my living room is this beautiful built in bookshelf! It is such a perfect place to get creative with design, and do something beyond just using it for book storage. Instead, I wanted these shelves to be a carefully curated place to display a variety of things that were meaningful to my family and I.
Styling bookshelves is a little bit of an art form … It can take a few tries and some planning to get it right and looking the way you want it. Today I wanted to hopefully help and inspire you guys, and share with you my best tips and tricks for styling shelves.
Hope you all enjoy! Let me know if you try any of these ideas in your home!
Xx
Tamera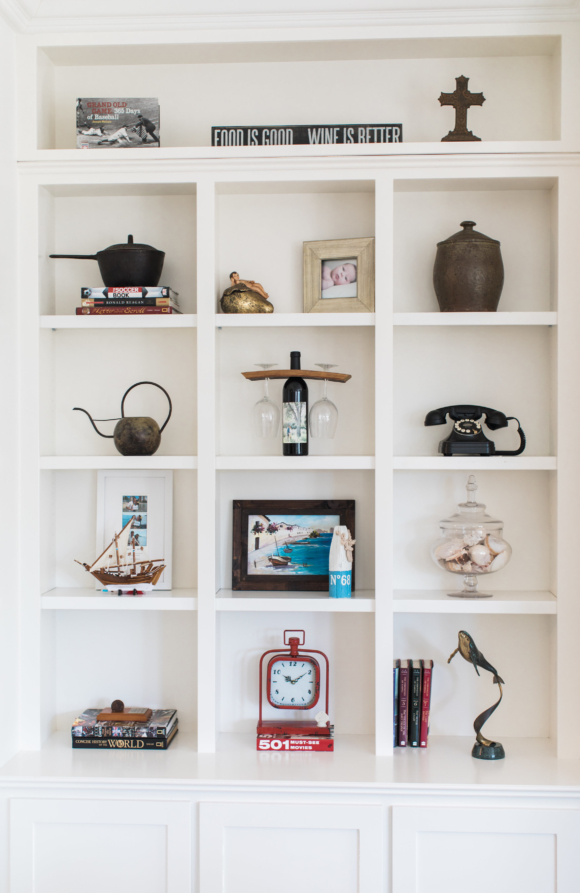 Fill the space evenly — Make sure that visually, your shelves are balanced! You don't want to have any big gaps or obvious empty spaces. Think balance.
Add objects that are meaningful to you – The best part about having well styled bookshelves is that they should make you happy when you look at them. Fill yours up with objects, photos and mementos that are meaningful to you. Items that have sentimental value, hold nice memories, or that you find beautiful and inspiring! Avoid buying things just for the sake of having something on your shelf. I love that most of the pieces on my shelves, have a great story attached to them.
Build your shelves from the bottom up — Start styling your shelves at the bottom, and then work your way up. That way you can anchor your shelves with heavier and larger objects (if you have them) and maintain balance.
Remove book jackets — If you have books you love, try removing the jackets / covers to reveal the natural spine of the book for a cleaner look!
Use photos and artwork – I love the idea of placing artwork and photos on shelves and just leaning them up. It adds great depth and dimension!
Don't overcrowd your shelves – Less is more! It's better to have clean, evenly balanced shelves that are full of meaningful things, than ones that are crowded and visually unappealing. Be a careful editor!