I won't lie, getting through the first trimester is slightly overwhelming! I went from learning I'm pregnant to dealing with morning sickness to announcing the big news in what feels like a day. Even though I knew to expect most of this stuff the second time around, that doesn't make it any easier! But it's truly an exciting time with a lot of changes. It was so exciting to see that some of you are due this summer as well! Read my tips below and feel free to post questions in the comments, too.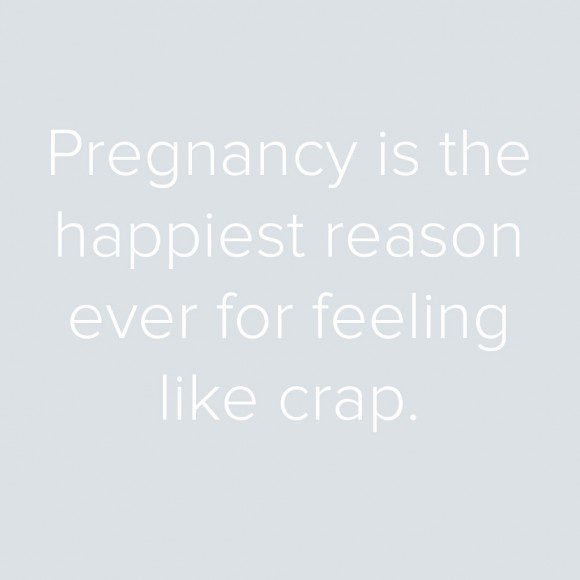 1. Handling Morning Sickness
Morning sickness can occur pretty much instantly after becoming pregnant. Not only that, but nausea doesn't care what time it is – it'll strike whenever – which can really throw your day off. So try to to lessen the symptoms of morning sickness as much as possible. Avoid certain smalls that set off sickness, which can be things you never really noticed before. Also, as tempting as it is to avoid all food when you're sick, an empty stomach amplifies those nauseous feelings. Eat small meals and have plenty of water.
2. Stay Healthy
Just like always, being in good health offsets some (though not all!) of the side effects of pregnancy. A good diet and staying active (even taking walks) can help you handle fatigue. A healthy pregnancy diet is similar to a regular healthy diet, rich in fruits, veggies and the adequate amount of protein and nutrients, with the exception of dangerous foods. Giving into cravings is usually ok and can save your sanity, but it's important to be mindful of what those cravings are, because they aren't always the healthiest!
3. Take Your Vitamins
Vitamins will ensure you get everything you didn't get from food each day. Prenatals can be a good choice for any woman, whether or not she is pregnant, as they are a well-rounded supplement. You'll not only ensure you have the nutrients you need, but those nutrients help with anything from fatigue (iron) to contributing to a healthy baby (folic acid). Vitamin B6 may help with morning sickness, so it could be a good thing to talk to your doctor about too.
4. Dealing with Hormones
Hormones change the most dramatically during the first trimester, so it's no surprise that it can feel like a constant rollercoaster. The changes in hormones are inevitable, so try a few different things to handle them naturally: Exercise is a mood-booster, so being even slightly active can cheer you up. Deep breathing, meditation, prenatal yoga and other relaxation techniques can alleviate stress too.
5. Ask for Help
It's easy (especially for others) to think that just because you're not showing yet, you're not dealing with all that comes with being pregnant. But anyone who has gone through this before knows that's so not true. All of the above and more are symptoms that we deal with in the first trimester (even more so than the 2nd and 3rd) so plan accordingly. If you have to rearrange your work schedule or take on less than normal—let people know. Trust me, they'll understand. Plus, with everything from doctor's appointments to planning for the baby, there's a lot to do. Ask for help at work or from your family whenever needed.
Moms, do you have anything to add to this?
Xx,
Tamera