Did you guys see my post about Aden's new hobby? It's been interesting to say the least! All this talk of my little man growing up has me thinking about children and how they learn to be creative. Countless studies have shown that encouraging creative thinking in children leads them to success – even though that creativity comes in so many forms. Arts and crafts or the infamous battle of left brain vs. right brain might come to mind when I say creativity, but that's not what I mean.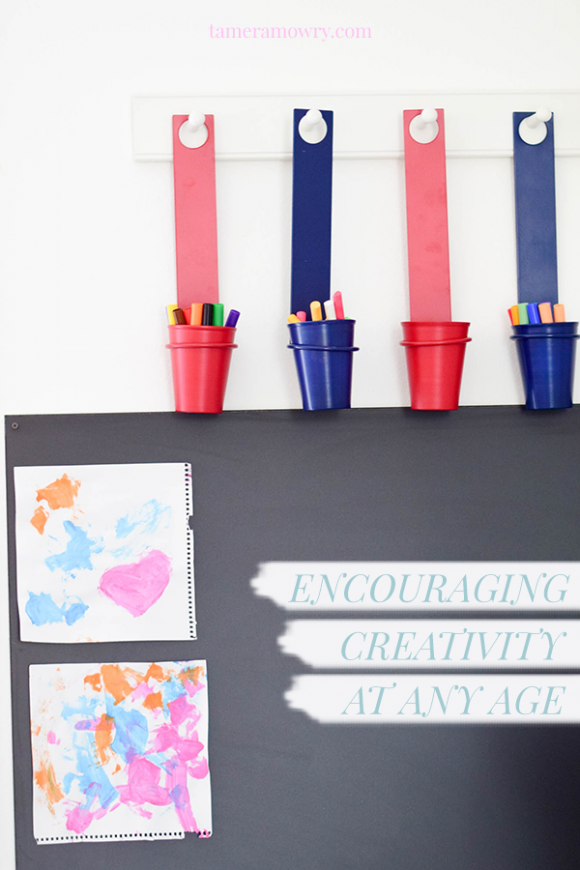 In adult life, there is rarely one answer to a solution, and often it takes multiple attempts (AKA, multiple failures) to get there. Logical and analytical thinking is very important, but creativity is what gets you to pick up and try again, and think outside the box when you have a really tough dilemma at hand. It's a pretty important skill to have and so many famous innovators throughout history were so successful due to their ability to exercise it!
If kids have room to explore these concepts at their own level – like dreaming up unconventional ideas (kids will blow you away with that one!) or letting their imagination run free, they'll realize there are many ways to learn and be better primed to take on "real world" challenges by coming up with more original ideas. Sure, their world is yours now, but one day they'll be out there making their own decisions and changing the world in their own unique way.
So how can you let your little ones know that something as abstract as creativity is welcome? It's really all about the small gestures: being patient when they try different solutions to a problem on for size, engaging in their ideas and unique interests and supporting their curiosity. And of course getting enough family time. This is so easy, right? We know how intelligent our babies are and how much potential they have, so of course we'll support them. But with children – really at any age – needless to say, they can be tough to read. So the best way to nurture their creative brains, might just be to make sure you're open to the possibilities.
Have any funny stories of your kids being creative and clever? I love hearing your stories!
Xx,
Tamera