Ah summer! The season we've all been waiting for. Even though extreme temps and dry air can do a number on skin, I find that summer is also a good time to channel my inner minimalist. Right now, I'm prepping for baby and soaking up a few relaxing moments with the fam, so I'm not getting too crazy with makeup. But my natural beauty routine does shift with an added focus on skin care and health. Here's what I mean…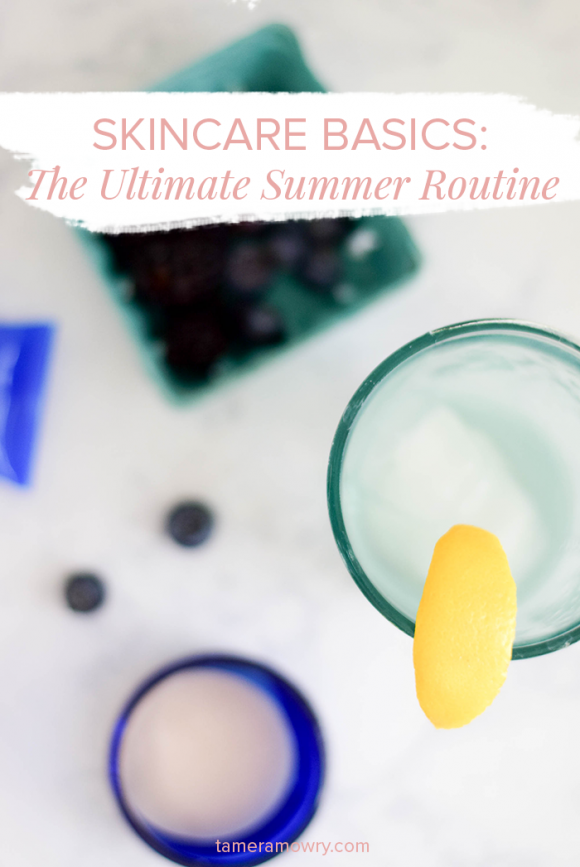 Do Damage Control – It's not that the sun's rays are more damaging this time of year, it's that we're out enjoying it more. And fun in the sun = the potential for damage. Yikes! Living in California, I made it a habit long ago to wear sunscreen every single day, but it's really essential anywhere. Aside from SPF, now is a great time to indulge in a facial or an at home spa treatment like eye pads (even with good 'ol cucumber) to wake and brighten. Basically, zero in on your skin concerns so that you can go fresh-faced when the weather gets hot.
Simple Skin Swaps – Moisturizing is always a must, no matter the time of year. However, there's no need for heavy creams – a mild moisturizer will do the trick. Replace with a tinted moisturizer (with SPF preferably) in a summer shade that matches your darker complexion. That way, you also eliminate the need for heavy foundation. If you plan to wear product on hot days, primers and setting sprays can prevent makeup meltdowns.
Glam Up Basics – Just because a look appears natural doesn't mean all products have been forgotten. Moisturizing lip balm (again, think SPF – your lips will thank you) can replace lipsticks and glosses and still pack color and shine. Another trick? Add oomph to your normal mascara by layering a waterproof one over it.
Detox Diet – Because my look is minimal right now, I'm focusing on health more than ever. It's easy to let makeup do the work (especially in the winter), but the real challenge is making your skin glow from within. And what contributes most? A good, clean diet, full of fruits and veggies (like antioxidant-rich berries) and as much water as possible. Infused water recipes always sweeten the deal!
Does your skincare routine change when summer rolls around? What skin concerns would you like to see addressed on my site?
Let me know!
Xx,
Tamera