These past few months I've been stepping up my workouts for my mommy makeover journey. I went through this with Aden and I know it was going to be tough – but it's another a new experience. Today I'm sharing some secrets and tips I've learned from the Helene Guzman of LA Rox Fitness (who I worked with during my pregnancy). I wanted to be able to pass these tips on to anyone working from the gym or home!
The #1 thing that has been working for me during this journey is varied workouts. Yes, it's that simple. If you're struggling to get in shape or lose the weight, let me tell you why switching up your workouts frequently is SO important. Working out post pregnancy is simply not like any other fitness regimen – we're already juggling so much as moms. Even just making the commitment to focus on YOUR health seems tough when there's a whole family vying for your attention. Mundane workouts just don't work for me. There's no easier way to lose motivation than to get bored with your workout.
Yes, at times working out feels like a major chore. That's a given – but if you put in the time to learn new exercises – even doing several different ones in the same workout sesh – you'll find a renewed love of taking care of your body. Where to start? Thankfully Helene has a ton of workouts up her sleeves, so I wanted to share a couple faves from a recent session. Here goes…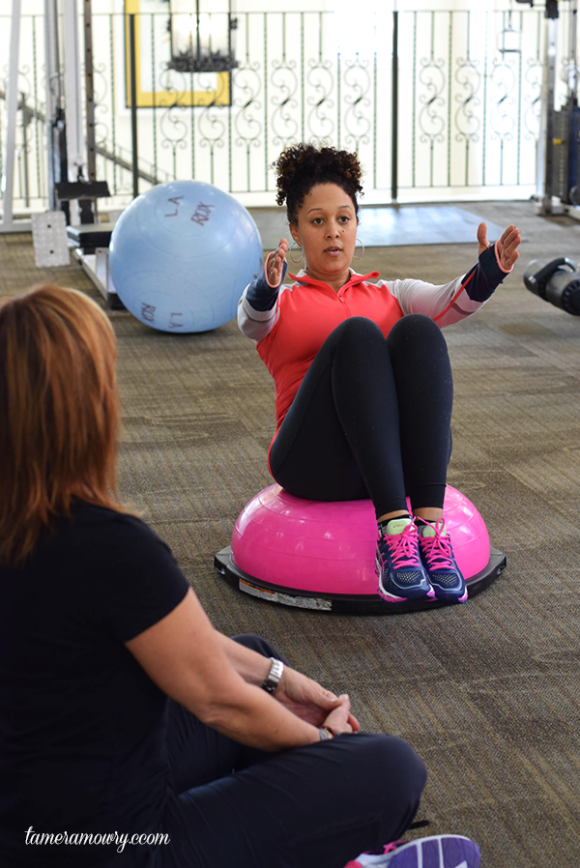 Bosu ball.
You'd never guess the kind of burn that comes from this unsuspecting piece of equipment! Bosu Balls are pretty simple, yet open the doors for tons of different workouts, and can be used on both ends. They're great for strength training, especially your core, and of course balance.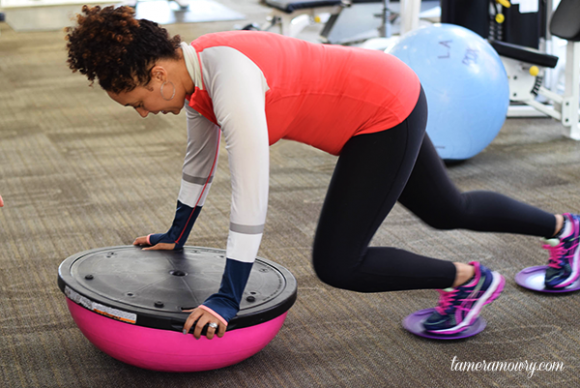 With these balls you can do variations of tons of traditional workouts like the mountain climbers I'm doing above. Traditional mountain climbers are done without equipment, but Helene added the Bosu Ball and Gliding Discs under my feet to take things up a notch. Since there's less stability, it's a lot tougher. If you try this and things are shaky at first, don't worry! You CAN regain the strength you had pre-pregnancy!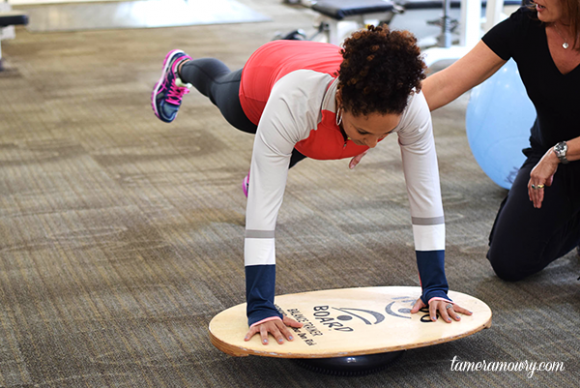 I've also used Indo boards, which open another door for workout possibilities.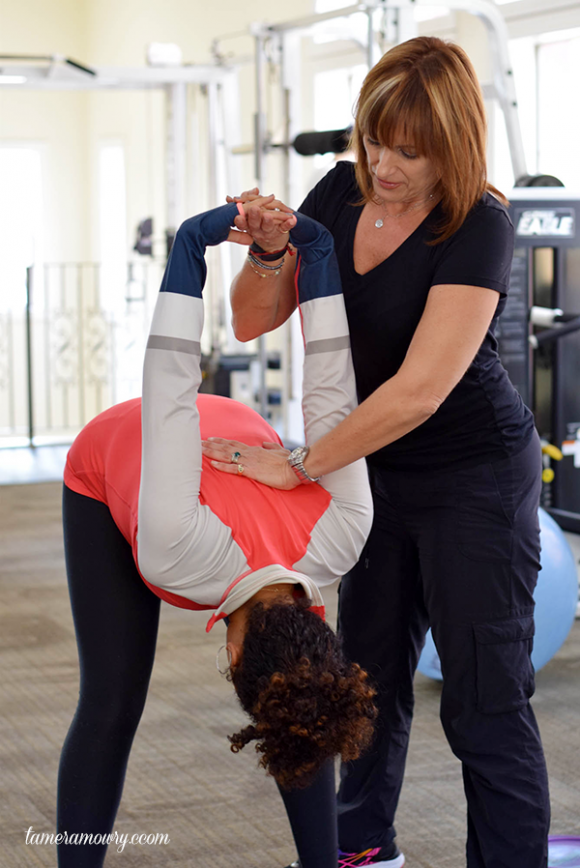 Stretching throughout.
You've probably heard about stretching before or after your workout, but doing so throughout will keep you loose through the session. It's also a far more productive break than just waiting to catch your breath before the next activity. Even the stretches you do can be switched up from time to time to keep things exciting.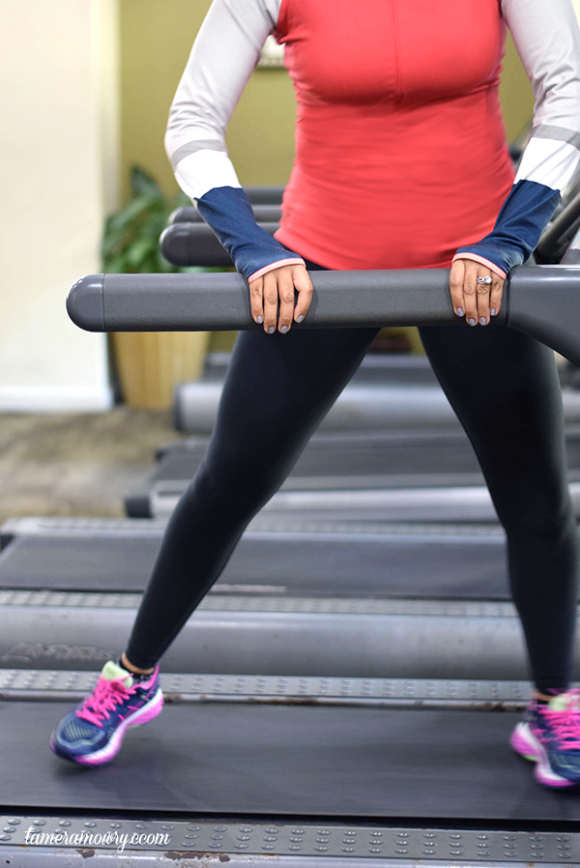 Treadmill switch up.
Have you ever seen anyone do this impressive move at the gym? Not gonna lie, side hops on the treadmill aren't easy! They work your muscles in a new way. You will fill the burn throughout your calves and thighs. But just a minute on each side (make sure not to go too fast and use the arms for support) will refresh a mundane cardio sesh, and the interval training helps keep your heart rate up and encourages quicker results too.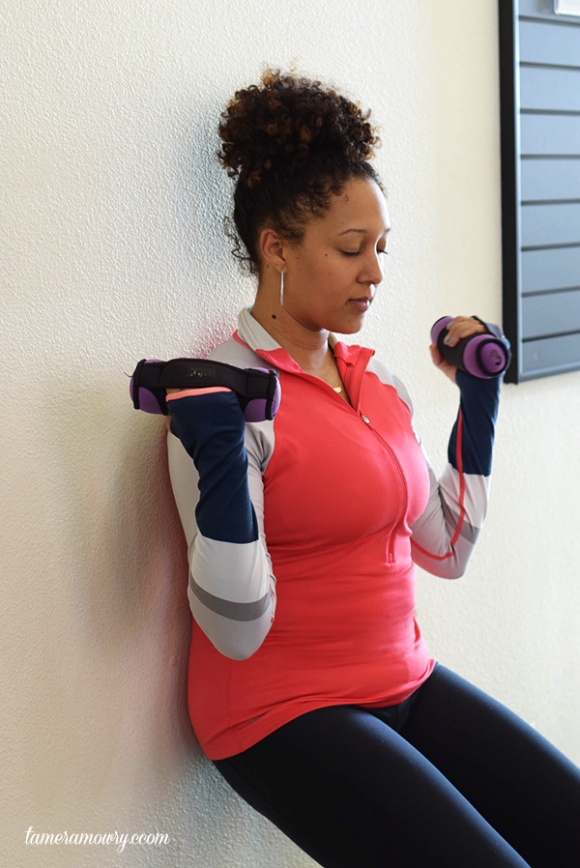 Wall sits.
Ah wall sits! Remember these from gym class? You don't always need equipment to increase strength – though hand weights can in help you do two workouts in one – just a little patience. To stay motivated, time yourself and take note of how you improve. Keeping your eyes closed is even harder and helps you be aware of what's happening in your muscles. This is a great exercise that can be done from anywhere.
If you're looking to try a few new workouts, it's best to do so with a professional. Many gyms offer free first sessions or trial periods so you can get the hang of the exercises and decide whether to continue with routine sessions or try them at home. YouTube is also a great place for workout videos!
Thanks to LA Rox for helping me step up my post-pregnancy workouts!
Xx,
Tamera