For Adam and I, summer means new opportunities for playing and learning with Aden, as well as lots of "firsts". We had an amazing time at Lake Tahoe recently, which made me grateful for those moments together. Of course, having an entire day or weekend together can sometimes be hard to come by, with work, errands, and to-do lists piling up. The three of us love simply going on an evening walk, but with the weather so nice, it's fun to get out and be more active when we can. If you feel the same, keep this list of creative play ideas handy to build off of when you and your little ones are itching to get outdoors…It's quite the mix!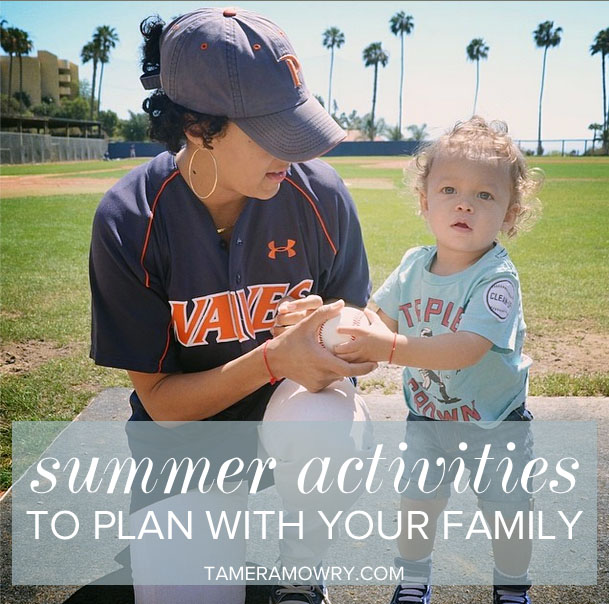 6 summer family activities
Sports Themed Afternoon – Choose a sport(s) and turn the backyard or park into a playing field. Continue the theme by preparing some creative sports-themed snacks in your favorite team's colors and helping the kids choose "uniforms" for a local team—or let them make up their own team to play on.
Volunteer Day – With so many organizations that could use a few helping hands, it's easy to find a local cause that will make a difference and be fun for the kiddos. In addition to providing volunteer resources, Nature.org has a section dedicated to helping kids simply get out and explore natural habitats to help them cultivate a love of nature. From there, families can learn which local beaches, trails, and habitats need help with clean up or planting, and plan a day to volunteer.
Nature Scavenger Hunt – Scavenger hunts are very customizable to your little one's interests. Try a scavenger hunt that includes learning about different species of plants or insects in your neighborhood.
Make Art Outside – Use sidewalk chalk (or flour, like this tutorial) to create a work of art as a family. Afterward, wash it away in order to clean up and splash around in the hose or sprinkler.
Backyard Camping – This is a great activity to start in the evening, so it's especially helpful for parents who work during the day and want to spend time with the kids at night. It also helps beat the heat of a hot house. Create a campsite with sleeping bags, tents, and s'mores. If you don't have a backyard, consider checking campsites near you—a lot of cities have camping surprisingly close, whether it's on the shore of a local lake or near a hiking trail; it doesn't have to be complete wilderness for fun.
Outdoor Movie Night – Pinterest is such great inspiration for kids' activities—parents are getting so creative! Do a search for outdoor movies and you'll find countless themes and ideas to create the perfect night-in with the fam, without actually being inside.
Do any of these family activities inspire you? How do you spend a summer weekend with your little ones?
Xx,
Tamera