Do any of you set daily intentions? It's really important to set your intent for the day if you want to get the most out of it. To some, setting an intention may seem like just an inspirational thought to begin the day with and forget about, but if you make this an important part of your morning routine, you'll find that it sets the tone for how your entire day will go – which is very powerful!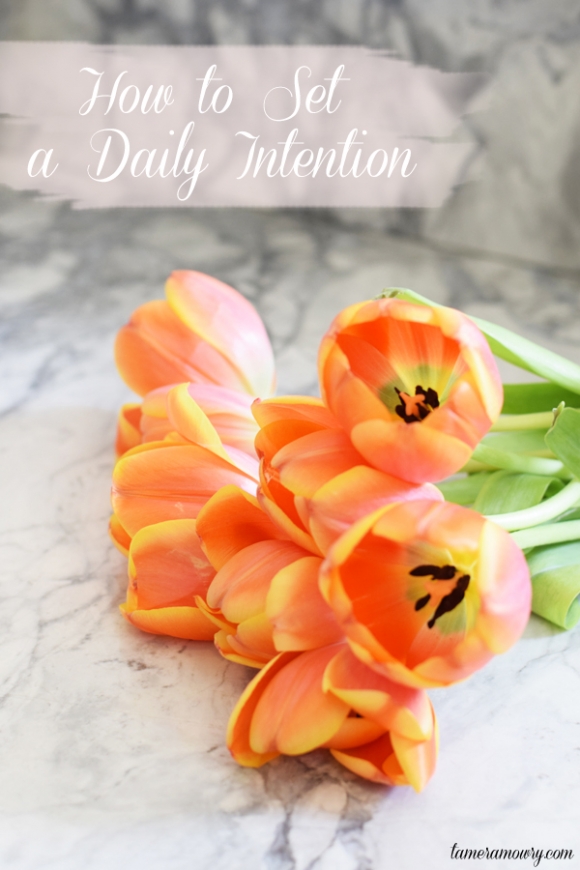 Intentions are practiced in many cultures as a way to live a fulfilling life of purpose. It's easy to go through the motions in a society as busy as ours; living with intent keeps the big picture in mind while giving you tangible ways to live that purpose. Intention is very powerful, so I have a few tips for making them stick:
1. Use it as a way to set goals. Make little goals to plan out your day, week, month, year – both long and short term. Having a vision is very important.
2. Set your intention while you're relaxed and have peace of mind. I like to do this while practicing yoga – I feel centered and able to envision how I want the day to go. It's SO nice to take this time to yourself and not be thrown into a busy day unprepared! We all know how that goes.
3. Make it positive. Even if your intention is something like 'stop being so hard on myself', you're going at it in a negative way. You don't want to be hard on yourself for being hard on yourself! Instead – just like when repeating affirmations – you want to say 'today I intend to be kind to myself'.
4. Pick something that applies throughout the day. Having something you can apply to different scenarios that also represents a larger goal or feeling is important. So if you intend to be kind to yourself, you can carry that throughout, with the larger goal of taking more time to relax and de-stress. Now with each decision you make throughout your day, you can think – will doing so mean being kind to myself?
5. You can set tangible intentions too. Sometimes we have very concrete goals – these are perfect for intentions too. Taking the intention of spending more time with loved ones. Whenever you're faced with a decision throughout your day, you can think back to the intention and decide whether doing something or going somewhere will allow you to reach your goal.
These small intentions aren't just ways to have a great day, despite whatever curveballs or surprises are thrown your way. They're each little steps towards the life you want to live. Down the road you'll find that you're cutting negativity out and making space for more meaningful experiences.
Have you ever set a daily intention before? Why not set one for the day now? Let me know what it is!
Click here to read more about how to take control of your happiness.
Xx,
Tamera