By now you know my secrets to making a house a home. I've turned our place into my own little slice of beachy heaven, but not without a conscious concern for budget. See, I like to think that Adam and I have been able to create an inviting and cozy home without stretching ourselves too thin in places I see as unnecessary. Just like the placement of pictures and knick knacks, I like my decor to be intentional. And with that comes knowing when to save or splurge on each item. Really, I feel that way about most purchases in life. So, here's my advice on when to invest and when to say no.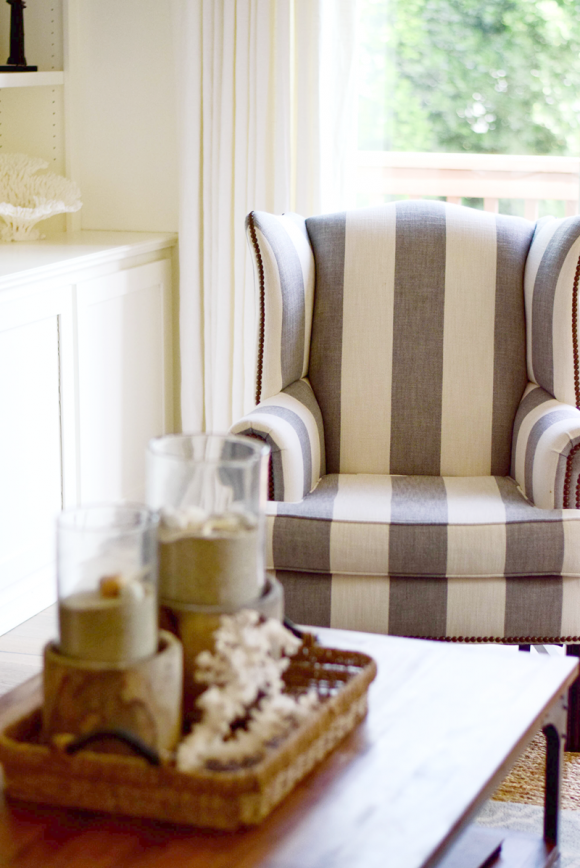 Splurge
Mattress and Bedding – Since we sleep a good portion of our lives–not to mention great rest helps our health (says the exhausted momma)–indulge in a comfortable mattress and nice bedding. Your bed should be a haven of bliss, and it's an item you should have for roughly 10 years, so think of the purchase on a per year basis. It may be hard to spend a huge chuck of money immediately, but it will make a world of difference to your wellbeing in the long run.
Area Rugs – Area rugs get a lot of traction. The matt in front of your sink can be inexpensive, but you should find a quality large rug that meets your needs and won't wear down from foot traffic. I love the trend of layering rugs, especially because it can help preserve your pieces and be used to change up your space when you're looking for a quick revamp of a room.
Sofa – In most households the family room is used daily. When Adam and I have down time we often unwind on the couch with a glass of wine and our favorite shows. Now with two little ones, the couch will see more wear and tear than before, so having one that's comfy and lasts is important. And I'm sure I'm not the only one who can attest to the value of making your sofa stain resistant when you have children. Lol.
Framing – Our home is full of photographs Adam has taken over the years, as well as custom artwork we've acquired from family and friends. So for us, another place to splurge has been framing. Custom frames match each piece of artwork perfectly and can act as a room's own accent.
Paint – Paint isn't an actual piece of decor, but your walls are a significant part of your home's theme. If you're painting a room yourself and don't want it to wear or scuff, then investing in a more expensive brand helps. Expensive paint is usually thicker and can cover the walls in less coats, leaving you with an even finish and less work. The same holds true for buying paint to refurbish furniture.
Save
Side Tables – Side tables are rarely a focal point of a room. They're more for function than style (that can't exactly be said about my mirrored nightstands, but every other one that's true). With side tables, it's best to find affordable options that have features you need–an added drawer, two shelves, a wider top…
Lighting – Fixtures can be expensive. There are times to splurge on them, but in most instances there are excellent options that will give your room the same result without breaking the bank. If it's an overhead light that will get more attention, then find one you love and pay the price, but if on a table or desk, think affordable. There are so many great ways to refurbish old lamps or mix and match styles for a more eclectic feel.
Dish ware – Who hasn't broken a dish? It's not fun, and it's even more frustrating when it's part of an expensive set. There are so many beautiful options for dish ware that are more than affordable and consistently available. If you break one, no problem, you can replace it without breaking a sweat.
Bathroom Items – Collectively, the bathroom tends to be the place where you can save the most. Since our tastes change and the items in your bathroom are rarely as substantial to your home's appearance, it's best to find discount pieces when it comes to shower curtains, hand towels, soap trays, waste baskets, etc.
Knick Knacks – Part of what I love so much about our home is that every piece has a memory or purpose behind it. We have found items, like shells from vacations, and accents from our history together, like the wine bottles from our wedding. The point is, each one was inexpensive and that's how most of the accents on your shelves should be. Don't waste money on the item that you'll rarely touch. If it's that one thing you fell in love with, then by all means. But like bathroom items, your style can change–it's easier to swap out a vase or figurine than it is large furniture.
Xx,
Tamera