Mothers are so used to doing everything that sometimes asking for help doesn't truly seem like an option. There's this uncertainty that it somehow means not living up to your high expectations (that, let's be real everyone, we set for ourselves), or that it will just lead to disappointment. As difficult as it is, sometimes it's necessary to put pride aside and ask for assistance instead of trying to go at it alone.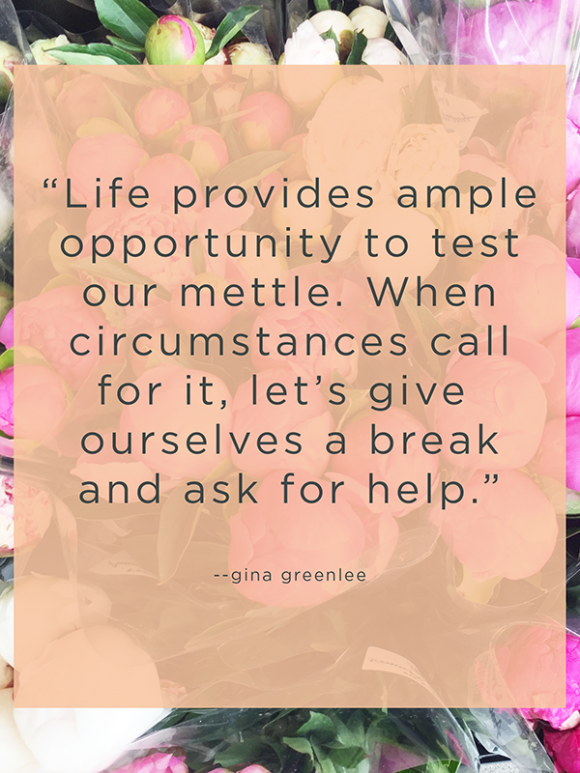 Parenting is a pretty big job. Throw in demanding careers, relationships, and a a personal life (whaaat?!) and it's easy to see why one might need a little help. I'm lucky that I've had the support at home and work over the years. Recently my momma has come to my rescue without me needing to utter a word! Even so, it's easy for moms to let the tasks pile up without even thinking I could use some help.
More often the help that propels us most is just plain support. Having someone say "I'm here for you" is more empowering than you'd think! Here are a few of my tried and true methods for determining when you finally have to just throw uncertainty to the wind and ask for help – not just moms, but anyone who tends to take on too much at once.
1. The to do list stresses you out. To do lists aren't exactly relaxing, but they shouldn't cause you major anxiety. Whether it's your mental list (which as a mom it tends to be) or a messy notepad, if it gets so overwhelming that you can't even look at it without letting out a huge sigh, it's time to ask for help.
2. You do everything in a whirlwind. This is a sure sign of being a mom! Doing a million things at once and by the end of the day you're not even sure what you really did do. By this point you're way past the to do list; you're just doing everything you can get done before the ultimate deadline: bedtime.
3.You're disappointing people (including yourself). Not being able to spend enough time with loved ones or complete tasks on time (or with the right attitude) definitely takes a toll on you and those around you. Plus, the finished product looks different than if you had the time to complete it in full force. Asking for help isn't an admittance of defeat – it's how to conquer the day at your best.
Not asking for help can hurt you in the long run, so knowing when you need to reach out is important. How do you know when you need to ask for help?
Xx,
Tamera