You know how some jewelry becomes such an integrated part of your style? Trends come and go but there will always be a few forever pieces (ring included, of course!). You might have seen or heard me talk about my "mommy" necklace – I love it so – and it's one of those pieces. There's nothing more meaningful jewelry-wise than a piece that's custom or personalized. If you want to invest in some bling yourself or to give as a special gift, there are so many ways to go about it. These are my personal faves, starting with designer Jennifer Meyer, the talent behind my necklace.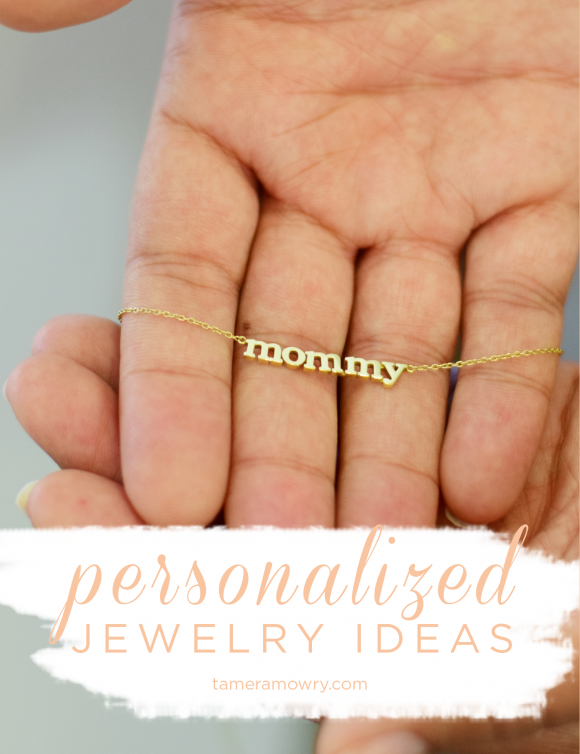 Jennifer Meyer. Independent designers can be some of the best sources for personalized jewelry so when you stumble upon a brand as amazing as Jennifer Meyer you bookmark it for sure! 10 years after Meyer founded her brand, they still make each and every piece in their Los Angeles studio, including personalized ones like my mommy necklace.
Page Sargisson. Another designer with gorgeous fine jewelry is Page Sargisson. Here you'll find one of a kind (the colors are amazing!) pieces made from found objects and the ability to have a customized piece created just for you. Another noteworthy perk of this jewelry line is that it's made ethically and eco-friendly. No guilt over this purchase.
Etsy. I love discovering new shops on Etsy (like these baby girl clothes), and doing so for jewelry is no different. Etsy is a huge handmade marketplace so you can get lost in the search if you don't know where to start. The options are endless! But plenty of designers offer stunning personalized jewelry, like The Modern Bazaar, Unmistakably Mine, and Jayne & James to name just a few.
Bauble Bar. This is an affordable site for the latest must-have jewelry pieces, many of which have a personalized flair. Their personalized jewelry section has monograms, states and charms. (Those alphabet studs and asymmetrical character necklaces are so pretty and dainty.) You can also build your own bracelet stack – the bright colors are so ideal for summer birthday gifts that have a thoughtful touch.
What's your most important piece of jewelry? Share with me in the comments.
Xx,
Tamera