One day while putting Aden and Ariah's bathrobes back on the door after bath time, I couldn't help but smile! They looked so adorable hanging there, which got me thinking all about our favorite nighttime rituals. Setting a nighttime routine is crucial in keeping your children aware of (dun dun dun) sleepy time.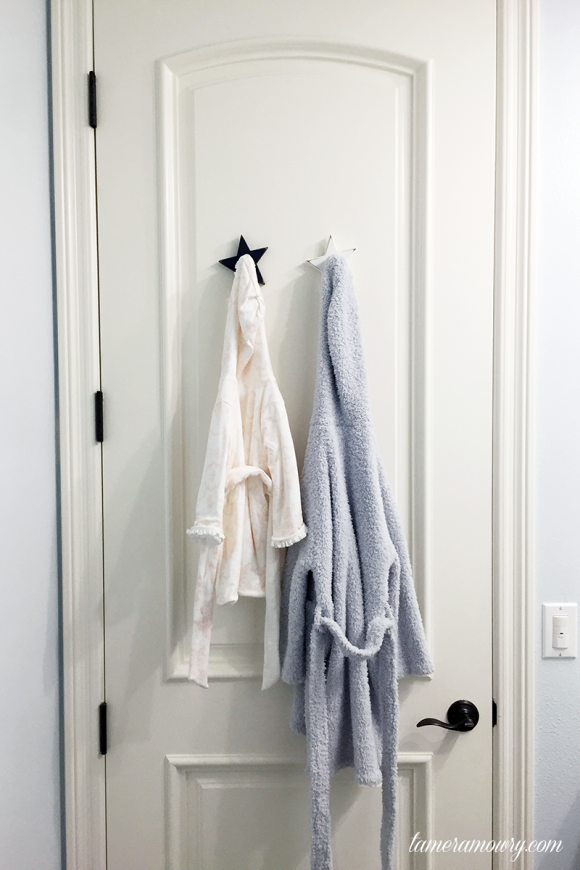 I find it makes it so much easier to get the kids down when there is a routine in place. Now that we've been a family of four for over a year now, we have an established bedtime routine that involves three very important things: 1) Bathtime, 2) Reading, and 3) Prayer.
By looping bedtime in with these three relaxing activities, it gives us all some much needed family time. By the end of a busy day, Adam and I want nothing more than to hang with our babies – we need this family time just as much as the kids do. Plus, it starts the winding down process. If you're a parent you know how important this is! A wound-up little one and bedtime is a no go. Having a nice, warm bath and reading together lets them know it's time to settle. And of course, we want to send them to bed with some positive thoughts and a heart full of gratitude, so reading and prayer are both important to us as a family.
Kids of different ages go to bed at different times of course, and I've learned to really cherish this! It's nice that Ariah goes down an hour and a half earlier right now. I get some one on one time with Aden.
No matter what your routine is, the important thing is that it works for all of you – that it helps your children and provides that quality family time. Just know that it's totally normal to get off track every now and then. We sometimes have a slumber party in our bed and watch kiddy movies – ah, the simple pleasures of being parents – so it'd be impossible to stick to the routine every night. But as long as there's something in place that creates a sense of regularity for them, there won't be any surprises when we tell them it's bedtime.
Would love to hear about the routines you've established with your little ones – they're so important!
Xx,
Tamera