If you ask any pregnant woman what the least fun part of the first few months was you'll likely hear morning sickness. While adjusting to the fact you'll be putting on a little weight isn't terribly exciting, it's the uninvited bouts of nausea that affect you most. When you have to work, tend to other family members, or be on set like myself, it can make these moments miserable. Heck, feeling sick isn't cool even when you have nothing to do!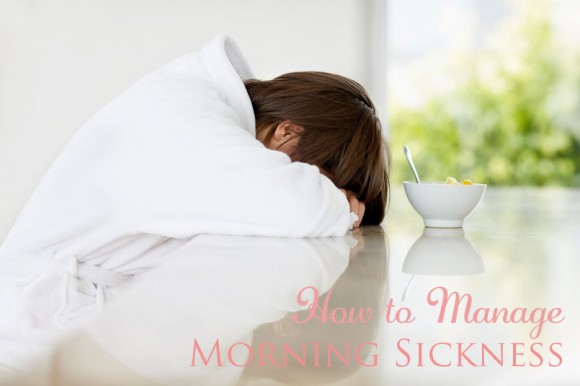 During my first pregnancy with Aden it was all new to me. I read and asked friends and family about their own experiences. Now that Adam and I are adding a little girl to the mix, I feel more prepared. While everyone's experiences are different, I thought I'd touch more on morning sickness because so many brought up their struggles in my first trimester post. So, if you're thinking about getting pregnant or just received the great news (congrats!), here are a few things to keep in mind to help get you through potentially nauseating days.
Drink lots of water. I touched on this before, but it really is a lifesaver. When you get dehydrated, you become more nauseated, so it's important to get fluids down any way you can. Try sipping water, sucking ice cubes or adding more vegetables and fruits into your diet to pick up the slack when that eight glass of water just seems too much. If you do throw up, you'll want to have fluids within to make the experience less painful.
Keep fresh scents near by. Sometimes my stomach turned when I smelled something less than pleasant. During pregnancy your smell is heightened so the likelihood of this happening increases a great deal. You can battle it by keeping your house fragrant with candles, and if you're out and about, carry an essential oil dropper or roller with you for a quick blast of lemon, peppermint or lavender.
Find the right snacks. This may take some trial and error to begin with but finding those foods that calm your stomach can be a game changer. Crackers, some fruits or foods with a fairly bland tastes are your best bet to start. It's the fatty foods that can lead to even bigger bouts of sickness. I know that's easier said than done, but little morsels of food frequently are better than nothing at all.
Eat or drink a little ginger. This worked wonderfully for me this time around. I combatted a good deal of my morning sickness with ginger tea. If tea isn't your thing, there are other ways to try ginger for anti-nausea such as ginger candies, cutting off a small piece from raw ginger and adding it to your water, ginger bread or as one reader had recommended you can try ginger ale.
Carry a survival kit. If you do have to be out all day and are worried that you won't make it through without getting sick in public, carry a little pack of essentials. Keep a toothbrush, crackers, an extra top, some mouthwash, maybe a little ginger tea, a little baggy or anything else that you know you might need. If you're destined to be sick in public, better to be prepared than not at all. Gag Bagz makes a cute on-the-go kit.
And remember, if you're feeling sick, no one says you need to push through and act as though nothing is wrong. You don't need to tell coworkers you're pregnant prematurely or stress your body out as you have a beautiful life growing within. And you shouldn't feel bad that you can't work or tend to the house. Instead, relax. Take a sick day when needed or plan one a week out to avoid any at work mishaps.
Have any other tips? Share them with other expecting mommies below.
Xx,
Tamera