All throughout my mommy makeover journey, I've had to stay on top of my motivation. It's so easy to get discouraged when you're not up to a certain challenge or not feeling so fabulous at the gym, but I find that if I can keep up the motivation, I can power through these doubtful moments. And once you complete that workout or get to the next checkpoint, all doubts fade away. It really is worth it in the end to reach the health and fitness goals you set, so here's how I'm keeping my mind in check along the way.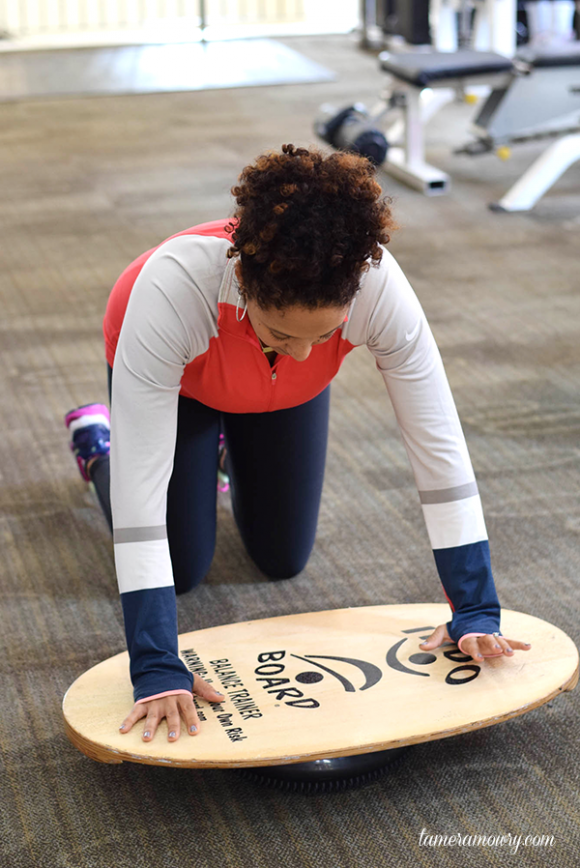 Don't just weigh yourself.
Well, let's back up. Don't weigh yourself before you're ready. This goes for any weight loss regimen, sometimes you really need to get going before even looking in the scale's direction. But when you're ready to track results, don't just step on the scale. I'll be the first to tell you! When you make big changes to your health and fitness, you'll see your body change in lots of ways. You'll often see those results reflected in measurements, not weight. Right now it's about increasing endurance and regaining strength. I'm seeing results each time I measure my arms, legs, waist, etc. – with a new fitness plan, you'll even see it in your neck. If I were only looking on the scale, I would easily lose motivation.
Build a foundation.
This is tough to learn – and re-learn – time and time again. You have to realize that once you have a foundation, everything will be easier. If you've recently had a baby, you can't go straight into what you did before the past 9 months! So build that foundation just by showing up everyday and powering through whatever level you're on at the moment, and know that once you do, you'll be able to conquer anything.
Switch it up.
When I wrote about my best workout methods I talked about how insanely important it has been for me to switch up my workouts. There is nothing worse than feeling chained to the treadmill! Especially when you are working yourself up to levels you've been at before or really hope to be. Getting stuck in the same routine is not only how you get bored, but you start to get in your head about what you should be doing how fast you should be doing it. When you're distracted by learning new workouts, it goes by faster and the results come with it.
Treat yourself to new gear.
I can't explain what a HUGE difference this TINY change makes. Going through this process, I've caught myself filling up with doubts and just feeling less than confident every now and then. I don't need the added pressure of not feeling good in my own clothes! Simply by investing in a new pair of shoes – which makes you more comfortable when working out anyway – an awesome new sports bra or some killer yoga pants, you'll feel ready to take on these challenges. Plus, if going to the gym or walking in your neighborhood intimidates you, this will make all the difference. It's almost like a mind trick – once you feel better in the clothes, it's easier to work out, and easier to make real change beyond those clothes.
What do you do when you feel unmotivated to work out? I'll add your tips to my list!
Xx,
Tamera