If you read my post on simplifying your life, you know what I have on my agenda for the new year. Whether you have a list of actual resolutions, are choosing a word of the year, or are just vowing to set a daily intention – the point of it all is to accomplish goals and make changes, right? You definitely don't want to do all that work just to forget about it a week later. Been there, done that. Try these quick tips for keeping those resolutions in check: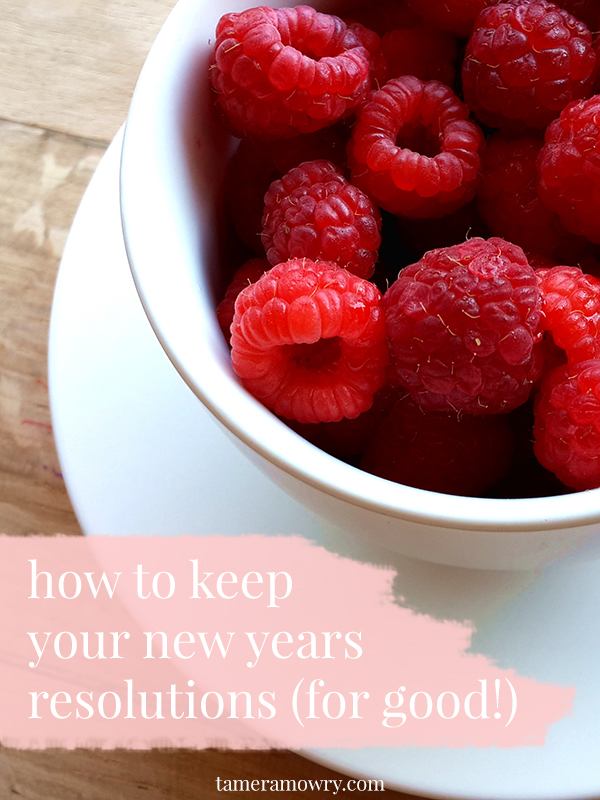 Be specific. When making a resolution or goal, be specific. Don't just say "get healthy" and expect the you from a week or months from now to know exactly what that means. You want to make goals that guide your decisions throughout the year, and vague ones are easy to lose sight of. Don't set a goal you can easily talk your way out of!
Take baby steps. Just because a resolution has an end goal doesn't mean you'll get there on the first try. In fact, most resolutions aren't that simple! Break those big goals down into things you can do throughout the entire year, and you'll be working toward it each week or month.
Don't forget them! Easier said than done, I know. The 'out of sight, out of mind' adage is real, guys. In my opinion, the biggest reason people don't keep resolutions is that they simply forget they made them! Keep your resolutions on display 365 days of the year. Even if in 6 months from now you pivot from those original goals to something else, you'll remember where you started. But if you keep them stashed away, you won't even remember you wrote them.
Create a visual. Creating a visual representation of your resolutions can be helpful for those who struggle to maintain a mental image of their goals. A vision or inspiration board with photos and cut-outs of where you hope to be can be super motivating – I did this when I started my mommy makeover journey – it helped me illustrate some of the goals I'd been keeping in my head and was a huge motivator.
Keep some to yourself. By now you may have noticed a few studies showing that shouting your goals from the rooftops might actually make you less likely to achieve them. It's because talking about goals often gives people a false sense of accomplishment – they share it with their friends and move on. Sound familiar? There's nothing wrong with confiding in people, especially those that will keep you in check, but don't let that trick you into thinking you've conquered a goal you haven't!
Tell me – which resolutions in the past have you actually KEPT? Share your tips for sticking with it below!
Xx,
Tamera