We're going through a very interesting time with Aden right now. He's over two years old and displaying some of the 'terrible two' behaviors other parents warn about. He's still learning how to articulate his needs well, and with that comes tantrums. Don't get me wrong, he's a complete angel most of the time, but when something frustrates him or he has a captive audience, things can turn quickly. Now with a new baby sister getting a lot of attention, managing tantrums has been even harder. But Adam and I have been diligent about teaching him that this behavior isn't the right way to get what you want, and so when a meltdown hits, we try to take action immediately.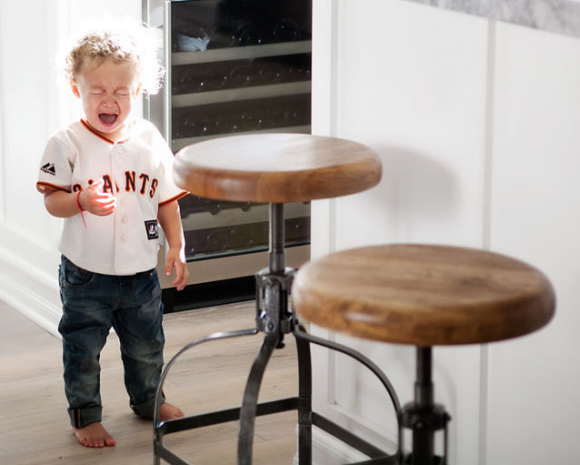 Just like we're experiencing with potty training, figuring out the best method for changing Aden's behavior can be a lot of guess work. First time parents know what I mean. We've seen parents use the 1,2,3 method on their children and heard others who still think spanking might be the way to go. For us, we've found a blend of techniques that are working well with managing Aden's tantrums. Because sometimes he's just tired and needs a nap, and other times he needs a little discipline.
To start we usually try the distraction method. My bag is loaded with little toy trains and Aden's iPad for those moments when a meltdown is just beginning–you know the kind that blind sides you and begins for no reason? Yeah. This often works because whatever was frustrating him disappears when he sees something he loves (and boy does he love trains).
If that doesn't work and he's acting out, we try putting him in the corner for a minute or two, or making him stay in his room for a short period to 'work it out'. He'll often come away from the corner with a cute little apology and a hug (who can resist that face?). He comes out of his room once he's calmed down enough that we can take care of whatever set him off in the first place.
I bring all of this up because I'm curious about your experiences. When I posted about potty training on Instagram, there was such great feedback. I also mention it because it really makes us think, especially now that we have Ariah as well. We're constantly assessing the way we parent, but realize that ever child is unique. The way they learn and express themselves is so different. Who knows if the same methods we use on Aden now will work for Ariah down the road.
If anything, we just know that patience and love are key. Tantrums are part of being two, but if we can make them less frequent, then why not!
Would love to hear what worked for you. Did you let your child grow out of it, or were there practices that kept meltdowns at bay?
Xx,
Tamera