Decorating is a fantastic way to settle into a new home or revamp your existing space. We have a wall of built-in shelves in our current house and I must admit, I loved playing interior designer with them. In small spaces, they add interest, and in large, they make a room cozier. But built-ins can either be a fabulous focal point of a room or a dated design that ends up taking up space and looking cluttered. Well, if you're going for fabulous, look no further! You can achieve this look on your current built-ins, or spruce up any other wall-to-wall shelving you have by following just a few rules.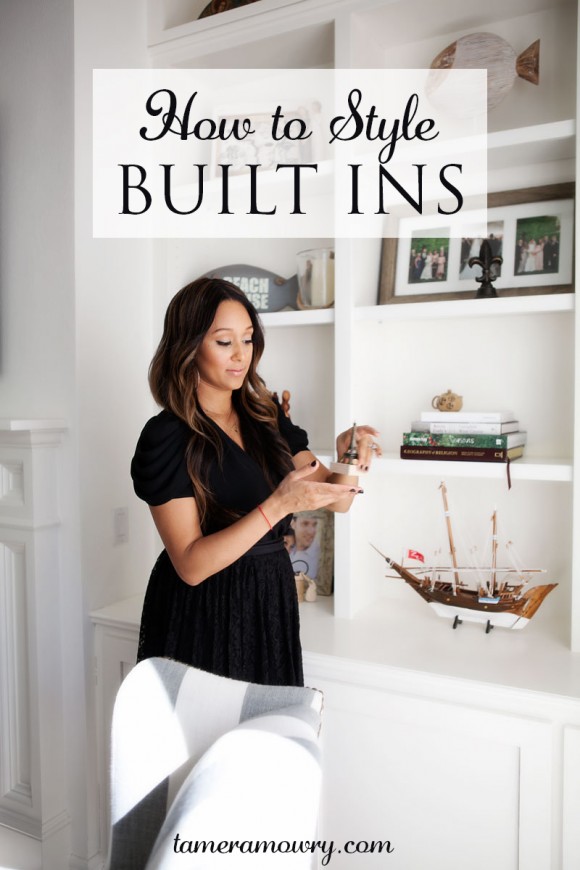 How to Style Built-Ins
Choose a Style
The first thing to do is a figure out what style you're going for. Easier said than done, right?? Choose a word that represents your room and emulate it in the décor. If you can't tell, I went with nautical! That meant neutral colors and classic patterns – anything to give off the feel of vacationing at a beach house – to create a peaceful space. That led to accents like my "Beach House" sign and driftwood frames. Then came the motifs—a ship, a fish and other meaningful objects we'd collected over time. It's easy to go overboard (no pun intended!) with the décor, so my tip is just to make sure each piece has meaning.
Strike a Balance
I went with only a few special pieces for each shelf, but you can add as much as you'd like and still have a clean and chic display. The key? Balance! Balance between shapes, sizes, and colors – especially colors. Too many bold colors and patterns can get distracting, but blending those with solids and subtle hues brings them to the forefront in a good way. And because built-ins are often a pretty piece of furniture in themselves, white space is also important. If you can't see the back any longer, you've gone too far! (Exception: using your built in exclusively as a bookshelf!)
Work with Wall Art
My shelves don't line the entire length of the wall. We have a bit of wall space in the middle where our mantel is. The mantel itself was kept neutral so that the shelves could really be the focal point. If you have a space like this, a center piece like wall art or your TV is perfect here. It balances everything out and is just plain practical. Other than that, wall art should be kept pretty minimal. Instead, go for smaller framed pieces that fit onto the shelves. Keep the larger art pieces for entries and hallways or other rooms.
That's all there is to it! Don't forget to make sure everything fits with other pieces like furniture and rugs… Decorating is fun, but not when you have to re-do it because something doesn't "fit"!
Renovating? Pin this post to save for later!
Xx,
Tamera