You've seen a few sneak peeks into my home in my other posts where I talk about my beach chic style and how to style nautical built-ins. And of course there's Ariah's powerful in pink nursery I revealed not too long ago. All of these things come together in my mind to transform my house into a home. Your home is the place you and your family meet together for meals or to unwind at the end of the day. In these rooms you wake up and gather together, and just be – no matter the size of your space. I've worked hard the past year to make my sure our home really reflects those loving feelings. The fact that the beach house theme reflects my own personal taste is just icing on the cake!
Below I'm sharing some of my favorite photos of our living space, along with all of the things I've done to make our house a home. Hope you enjoy!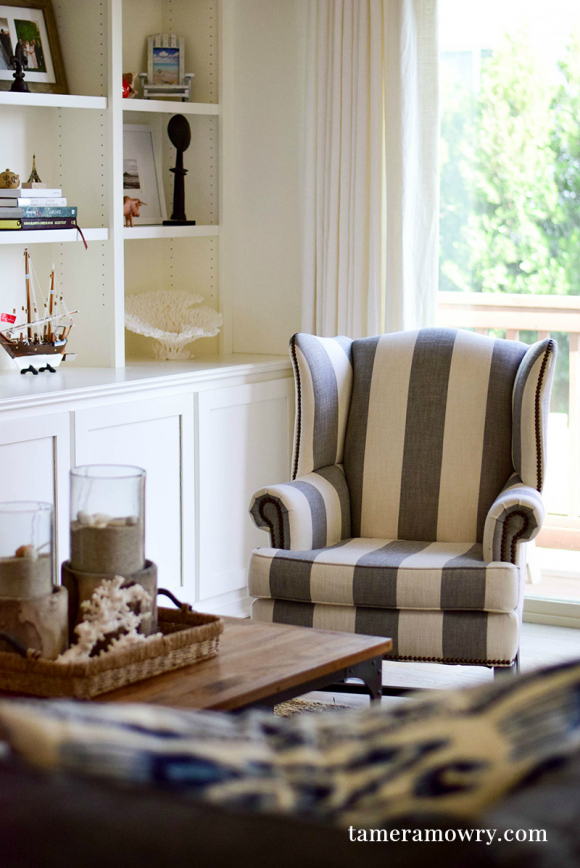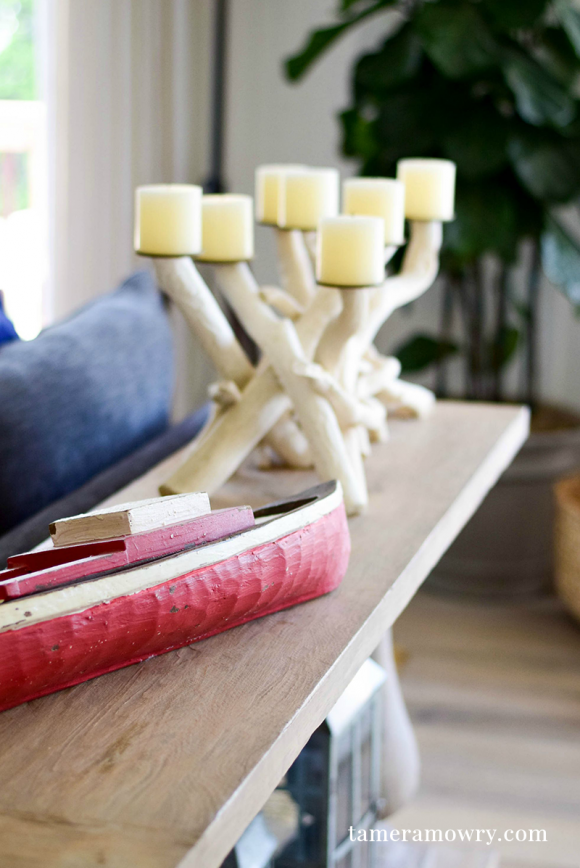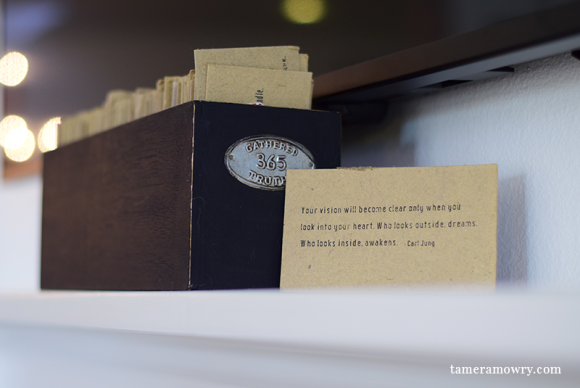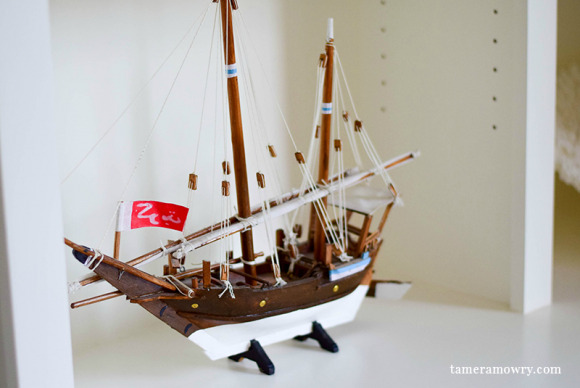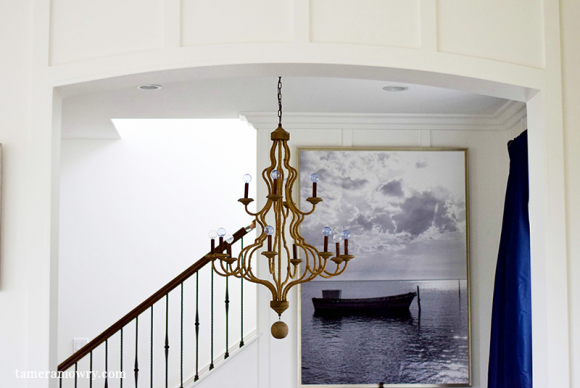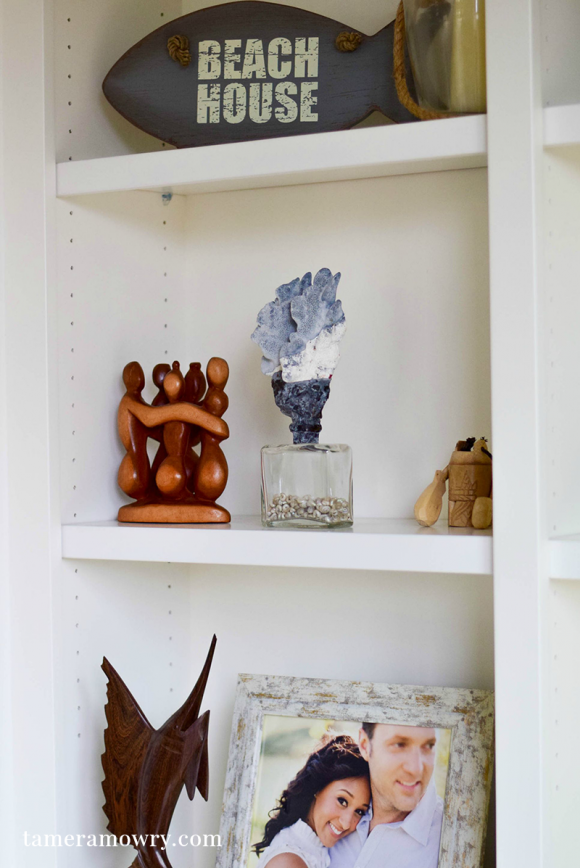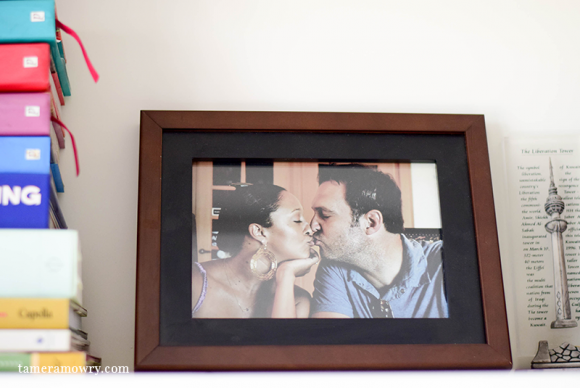 Repurposed décor. Shalena shared in her Ariah's nursery posts how important it was for us to repurpose décor in the nursery. We've also done this in just about every other room in the Housley household! Whether it's shells and sand from a family trip to the beach or souvenirs that Adam brought back with him from his travels for work, we always find ways to use and reuse things that have meaning for us. This also goes for gifts we've received, like the box on our mantel called 365 Gathered Truths, which is an inspired quote for each day of the year, that was a gift from Jeannie. She knows me too well.
Intentional photos. I believe in keeping things clutter free, which is why I love to be intentional about which photos I choose to display. We have albums and albums full of photos, but the ones that I hold closest are those displayed in frames around the house. All of our frames go with the beach = theme, with either a dark wood or whitewashed feel. The photos inside them don't have to be from a specific event, but just times we really love to be reminded of every day.
Personal artwork. Unless there's an artist I really love, most of the artwork that adorns our walls are kept within the family. Why? Because there's one artist who's work I admire most: My hubby. Adam loves photography and he's taken several of the photos that we've specially ordered in the perfect sizes to display. It may take a little more effort than buying an already perfectly sized piece, but both Adam and I love being able remember where we were or what we were doing when the photo was taken – even if we aren't the subjects.
Personal style. Like I said, I wanted to give my house a beachy feel. I've always loved the beach. Does a day at the beach not instantly put your mind at ease?! Since I'd already collected so many beach-themed décor throughout the years, it made total sense to bring this concept to life. I don't see any reason every single day shouldn't feel as fabulous as the times I've spent at the beach, and that's the mood I'm trying to convey when I'm spending time with family at home. If you have a style, I urge you to go for it! You don't have to live at the beach for a beach house, or in the woods for a log cabin, or in Palm Springs for a midcentury oasis. Your house should reflect you and your family, no matter WHERE it is!
What does your home say about you? Please share in the comments!
Xx,
Tamera