There's nothing like a finding your perfect neutral shade when it comes to interior design. It anchors the whole space and from there you can build a color palette and design you love. Over the summer I shared my obsession with aqua accents, a tranquil color that looks great in splashes throughout a space. Next up, how to find the perfect neutral to inspire the rest of your décor.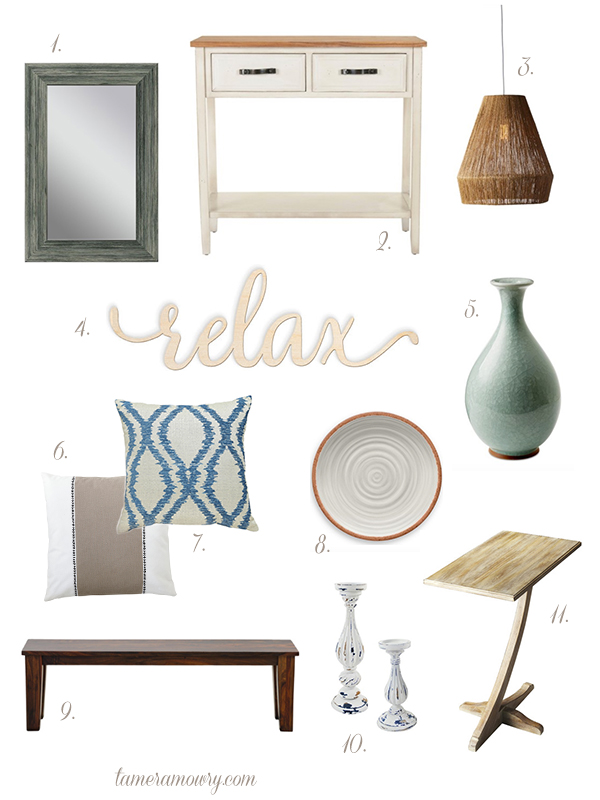 Rustic wood mirror, Gale rustic 2-door console, 1 light pendant in natural, Relax wood sign, Ice crackle vase, Racing stripe pillow covers, Throw pillow, Rustic dinner plates, Wood bench, Distressed candlestick holders, Butler crawford end table
For this edition of Home Look I Love, I decided to go with rustic neutrals. These would be light 'n bright tones that have a natural feel to them—think woodgrain, driftwood, jute, distressed paint, etc. They also have a coastal twist to them, with blue-grays and minty greens, which, if light enough, can definitely double as a neutral.
3 Tips for Choosing Neutrals
Choose 2-3 shades. You don't need to stick to one neutral, like white or gray, but you don't want to get too crazy. For example, if you love the rustic look, try a couple complementary neutrals like gray, ivory, and a pretty lightwood. Give them enough contrast so they don't clash.
Consider the theme. Think of words that you will want to describe your home with, like rustic, modern, coastal, or even feelings like warm, cozy, chic. The shades you choose will need to evoke those feelings.
Pair with what your own. Unless you are starting from scratch, you probably already have furniture or décor that you plan to keep… Make sure the new color scheme you choose highlights what's so great about those pieces.
Anyone in the midst of redecorating? Share your progress below!
Xx,
Tamera