When it comes to making a house a home, it's often all about the little things – those pieces that provide a much needed pop of color or have special meaning, or just tie your whole theme (in our case – beach chic) together. We love playing up the neutrals in our home's design by strategically choosing beautiful hues here and there that make the whites and natural tones really stand out.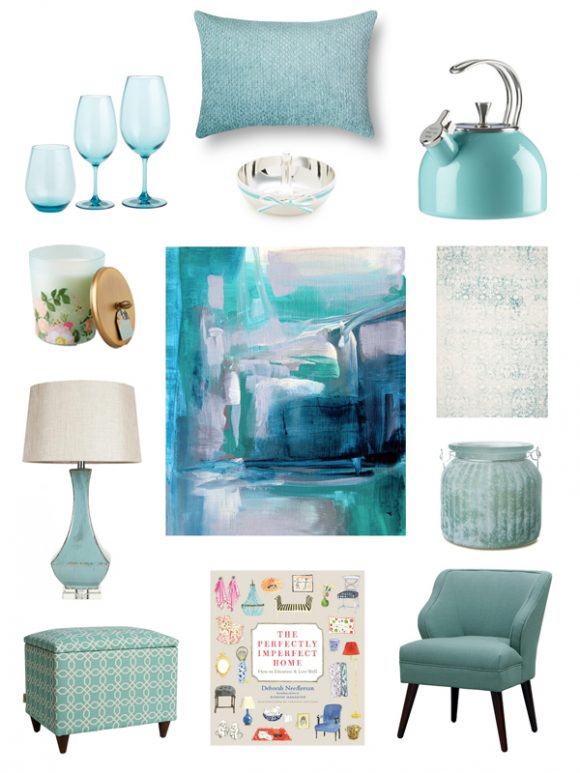 turquoise stemware / toss pillow / kate spade ring holder / tea kettle / spring's eden candle / abstract painting / passion turquoise rug / sea glass jar in harbor mist / olia lamp /ottoman / the perfectly imperfect home / arm chair 
Right now I'm loving this aqua color. To pull off this beachy tone you can choose shades ranging from deep turquoises to subtle mint and sea foam to sea and sky blues too. Considering that blue is historically known as a calming color, I find it evokes a serene, tranquil vibe that is SO welcome in a busy, energetic home like ours. Blues and greens are also said to reduce stress compared to some of those louder color. If the tones above channel refreshing feelings of calm and happiness when you look at them, they might also be a stress reducer for you too.
Color shy decorators – don't worry – when you choose an accent color, it's just that, an accent. You don't have to go all out with blue furniture and rugs and walls, of course. But one thing to keep in mind is that what sometimes feels overpowering is actually fairly minimal when placed in the grand scheme of your entire home. Don't be afraid to play up the theme a bit!
Which color are you currently crushing on? What other home looks do you love?
Xx,
Tamera