When it comes to interior design, it's hard for me to decide on just one style to go with – there are SO many ways to make a home cozy and chic (that's why I love that I have Shalena to help with the new nursery! She's the best). But one thing I settled on when we finished our new house was a beachy vibe. I love the feel that a bright 'n airy gathering place with comfy furniture and nautical accents gives off – it's like every day is a coastal getaway right at home with the fam.
SAILOR STRIPES:
Thick sailor stripes are a pretty classic pattern that I absolutely love. It's easy to get carried away with any chosen pattern but in the end they make the most impact when they're used sparingly. Sailor stripes go well with linen textures, wood grain, weathered wood, denim, and a ton of other textiles and accents. 
NAUTICAL MOTIFS:
As I explained when I talked about styling built-ins, creating a balanced look with keepsakes is key. Stick to your theme, but don't overdo it. A few sailboats and fish are great additions, but things like light wood stained frames and frosted glass vases create a subtler beach look. 
WHITE WASHED:
One of the things I love most about my family room is how light the space is. Of course, having big windows helps, but opting for delicate, semi-sheer curtains allows more sunlight in during the day. The rest of the room is painted a fresh white, and the floors are kept light so that everything gets that sunny, just walked in after a day at the beach feel. I love to have that relaxing feeling, even if I'm just walking in from the grocery store. 
SEA OF BLUE:
While lighter sky blues seem like the obvious choice here, we decided that this would be the perfect time to contrast all the whites with a homey dark blue that's reminiscent of sailor themes. Your sofa provides a great opportunity to be an anchor for the design (hehe) and either balance out all the pattern in the room – or, if you've gone for a more neutral interior, it's an ideal way to add a punch of color.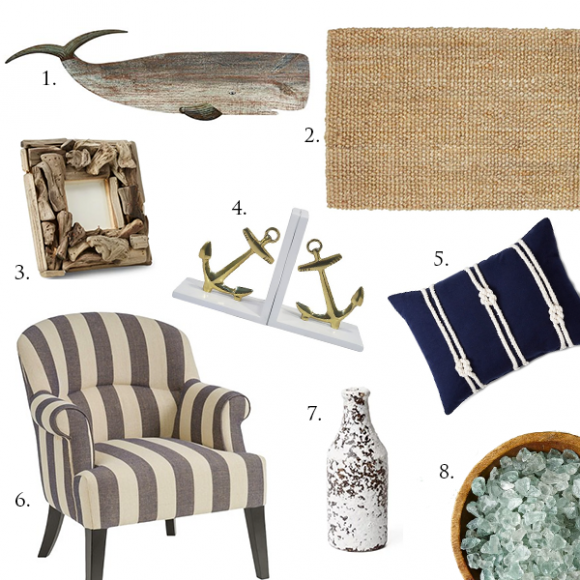 I love this nautical décor year-round, but you could also purchase a few key accent pieces to spruce things up for the upcoming summer months instead.
How would you describe your home's décor?
Xx,
Tamera