Today's post is by Agatha, the founder of Yummy Spoonfuls. This month, she's sharing an amazing recipe that will be perfect alongside your Thanksgiving main dish!
Today I'm sharing a side dish that is guaranteed to take center stage on Thanksgiving. We can all agree that green bean casserole has been totally overplayed, so here is to new beginnings! Instead of overcooked greens that we see on the Thanksgiving table, this sautéed shrimp and green beans dish is an amazing easy-to-make recipe that will have everyone asking for more.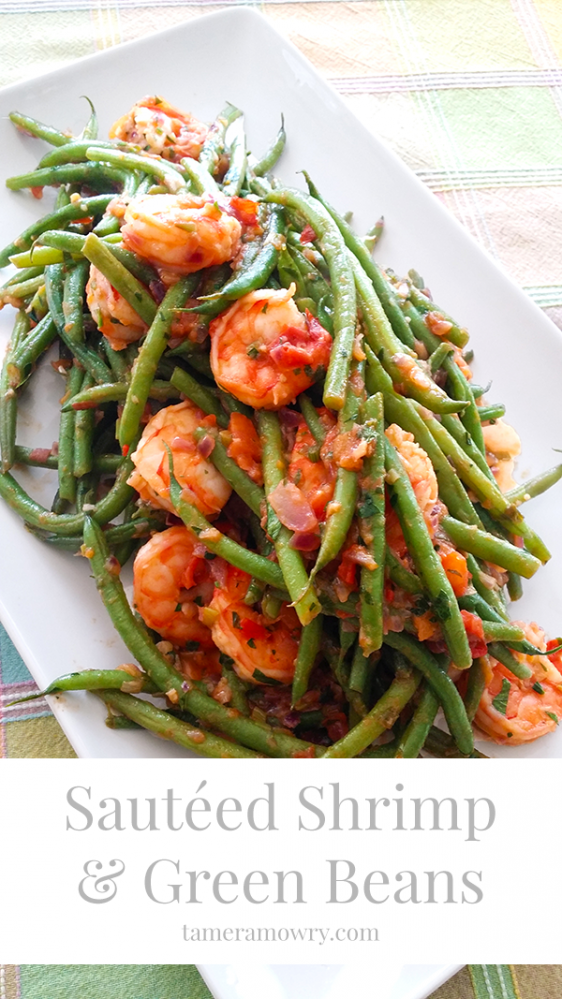 Sautéed Shrimp and Green Beans
Ingredients:
1lb green beans (such as French string beans)
1 medium onion, diced (about 1 cup)
2 tomatos, diced (about 1 1/3 cup)
2 scallions, sliced thinly
2 cloves garlic, minced (I use a garlic press)
5 spring fresh parsley, chopped (about 2 tablespoons)
3 tablespoons olive oil
Salt to taste
1/4lb large shrimp (about 16) (washed, pealed and deveined)
Directions:
1. Wash green beans in cold water, removing tough ends.
2. Blanch green beans in a large pot of salted boiling water. Depending on the size of the green beans it can take two minutes or more. You don't want to over cook your beans. Drain immediately and pour green beans in a bowl of salty icy water to stop cooking and keep the vibrant color and crunch.
3. Diced your onions and tomato. Set aside. Slice scallions, mince garlic and set aside. Chop parsley and set aside.
4. Heat oil in a large skillet or pot over medium heat. Add onions and sauté for about five minutes, stirring frequently.
5. Add garlic and continue stirring until fragrant, about 1 minute.
6. Add chopped tomato and scallions and sauté uncovered, until tomato begins to soften (about 7 minutes) stirring so it doesn't burn. Add good quality sea salt or bragg to taste.
7. Toss in shrimp. Stir and drain string beans from icy cold water. Add and toss in pot/skillet
8. Heat through just enough to cook the shrimp, about 3 minutes.
Happy Thanksgiving!
Agatha