Just like finding sneaky ways to get kids to eat, sometimes successfully teaching little ones a skill or lesson means incorporating it into a game. With really young children, learning is so important to their development because their constantly soaking in all of the information that surrounds them. Whether you really try to teach them or not, those babies are learning! That's why we love to be active as a family – we can make sure giving Aden (and now we have two minds to mold! Lol) all he needs. Even just the simplest activities make children feel loved and give them a sense of belonging, which is one of the most important things you can do as a parent. These activities do just that, and they are oh so simple.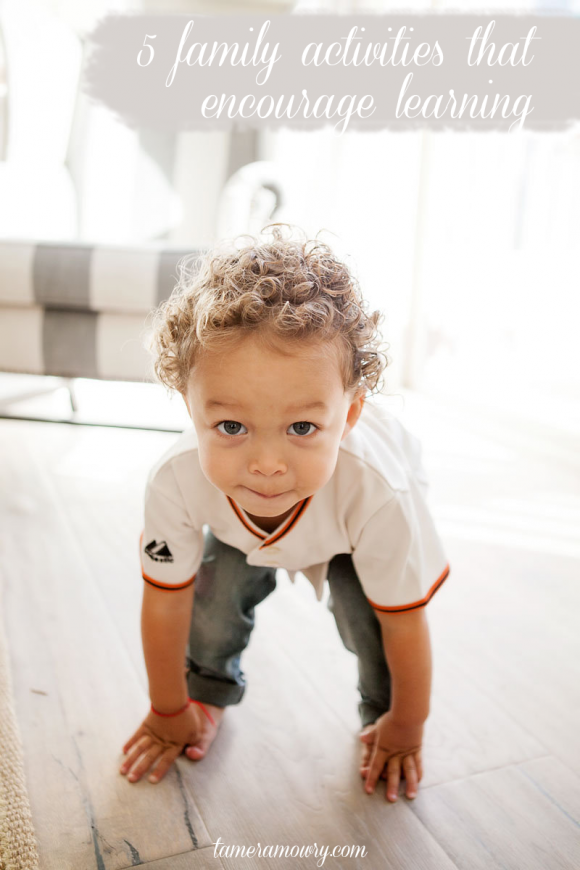 Make a terrarium. Bring the outside in by building a terrarium together. This is a great way to instill an appreciation for nature in young children. It's a three step process that involves going out and foraging for plants (or having a family outing to the local nursery), building the perfect home for them and then maintaining the contents. Even if kids haven't reached school age yet, they'll learn the responsibility that comes with caring for a living organism. Bonus, if you've been on Etsy or West Elm lately, you know how popular they are as home décor – even the kids' version!
Treasure hunt. Create a super simple treasure hunt in or around the house or a local park, depending on the weather. (I've mentioned a nature scavenger hunt as a great summer activity before.) Treasure hunts are interactive and help them think critically, not to mention they're the ultimate cure for boredom. Be sure to keep it simple for little ones and a little more complex for those already in school. Even just hiding an object around the house and giving them clues can create an active afternoon. Games like I Spy with your surroundings work too.
Camping. As we head into fall, camping may not be on the brain, but if you live in an area with beautiful parks or lakes, it's great activity at any age – something we've thought about for when the kids are older. Not only does it create memories that last a lifetime (does anyone ever forget a time they slept under the stars?!) but it opens the door to SO many lessons, from helping pitch a tent to meal prep to non-tech ways of finding entertainment. It also gives you a chance to bond in a way you never would at home.
Museum trips. Museums still have that stigma of being a stuffy first date activity, but if you've ever been to a kids' museum, you know it's simply NOT the case. They're chockfull of developmental activities that kids will have a blast with, and they can get quite busy – meaning lots of opportunities for building their social skills and learning to play well with others. This can easily evolve into natural history, planetariums and art museums, to name a few, all that generally have a variety of interactive exhibits.
On the town. Creating a day or night out complete with lunch or dinner, a farmers market visit and/or even the grocery store may seem like a mom is just asking for *stress* (believe me, with an infant and a toddler, I know what you're thinking), but there's something very rewarding about having your child by your side during these everyday events. As a parent I am the ultimate role model, so I know that they're learning from my actions. When Aden sees how Adam or I make even the tiniest interactions, he's getting to know how to behave and make connections himself. This can really help kids get comfortable in a safe and secure environment.
Hope this inspires some good ol' family time, everyone!
Xx,
Tamera