It's no surprise that every pregnancy is different. While morning sickness to weight gain can fluctuate from baby to baby, there are some conditions that every woman will experience throughout her pregnancies. Now that I'm in the homestretch with my little girl, the more pesky inconveniences are cropping up. Unlike the second trimester where you have a stunning glow and often more energy, the third trimester can have you aching to have the baby out (both in pain and excitement). I have just a few more weeks (seriously can't wait!!) and these are some of the third trimester staples you'll likely experience as well.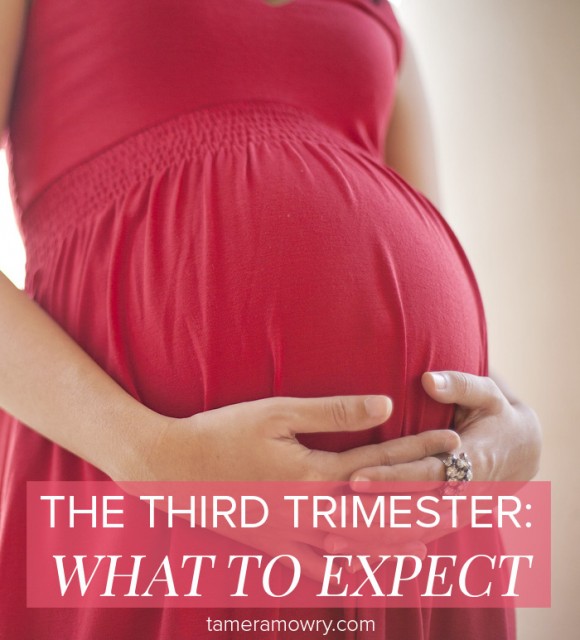 Baby Movement
During your third trimester a baby becomes very active. My baby girl has been moving and shaking a ton, reminding me she's ready to enter the world. I'm thrilled, but those movements can sometimes cause discomfort. Unfortunately this is one of the things you just have to work through and embrace that you can feel your healthy babe wiggling around. When you can alleviate the aches and pains you are experiencing (which I talk more about below) it will make these pokes and prods less distracting. 
Shortness of Breath
Throughout your pregnancy your uterus continues to expand. As you reach the end, it has expanded quite a bit and begins to push on your diaphragm causing less air to get into your lungs. Taking it slow and actively thinking about your breathing can help. This is a great opportunity to get into mindfulness and meditation. Bedtime becomes the real struggle though. You may have never thought that you can sleep comfortably sitting propped up, but trust me, it will make a world of difference. You can lay on your side, but sitting slightly up removes pressure from your diaphragm and supports your stomach.
Frequent Backaches
Similar to your first trimester your baby grows the most during your last trimester. Carrying this new weight can cause back pains, so it's important to take care of yourself from your head to your toes to minimize the occurrences and feeling of these pains. Supportive shoes are key. If I still want to dress up, at this stage I opt for a cute pair of oxfords–they're stylish, come in unique designs and colors and the right pair have a wonderfully supportive sole. Don't forget to pamper yourself too. Using a diluted essential oil like geranium or lavender on the achy spot will ease pain and is a great segue into a gentle massage, which you so deserve. 
Labor Signs
By week 39 you can start experiencing a range of labor signs. You can have feelings of nausea or experience Braxton Hicks contractions (mild contractions that are warming your uterus up for delivery). Nausea can also be a sign of heartburn so don't get too panicked if you're experiencing that and no other symptom, but combined with contractions or less attractive signs like more discharge or fluid from the nipples can also mean baby is ready. The best thing to do is pay attention to everything you're experiencing and if symptoms seem extreme, contact your doctor. 
I know this can all sound not so glamorous, but don't forget you're creating life and being pregnant is a beautiful thing. Pregnancy really attunes you to your body. For me, being a mother and going through pregnancy has forced me to be more present and conscious of what I put into my body and how I treat it–something that will continue long after baby is born. 
Xx,
Tamera