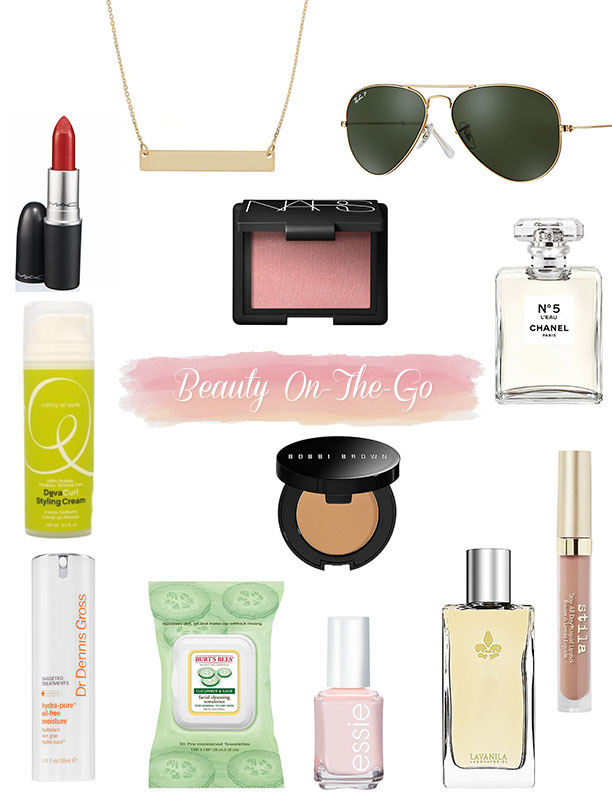 When I am really busy and I don't have a lot of time to devote to my beauty routine, I turn to my tried and true beauty products to make me feel put together! These are my ten must-have products that are my favorite secret weapons for getting out the door quick!
Ray-Ban Aviator Classic Gold Sunglasses
Never underestimate the power of sunglasses! They can hide the lack of sleep on your face, and instantly make your look more chic! I love Ray-Ban Aviators because they are a classic style that you can't go wrong with!
There is a reason that this blush is so popular! It has a gorgeous glow, works on virtually any skin tone, and immediately brightens your complexion!
Deva Concepts DevaCurl Styling Cream
I love the days that I let my hair go curly and natural! This styling cream by Deva Concepts is my favorite curly hair styling product because it leaves my hair soft, and also defines my curls.
CHANEL No 5, Eau De Toilette Spray
I'm not sure there is any scent more classic than CHANEL No 5! This timeless perfume always makes me feel more beautiful and put together, and is definitely worth splurging on!
Lavanila Pure Vanilla Eau de Parfum
I had to also mention my other favorite scent! Lavanila is another perfume that I often wear, and receive so many compliments on! I love that it is made with all-natural and organic ingredients and completely free of harsh chemicals!
Dr. Dennis Gross Hydra-Pure Oil-Free Moisture
This moisturizer by Dr. Dennis Gross is one of my secret weapons to feeling fresh faced! It is a lightweight and oil free formula that doesn't clog my pores, and leaves my face feeling soft and hydrated!
Stila 'Stay All Day' Liquid Lipstick in Caramello
I love a light pink or nude lip! The Stila 'Stay All Day' Liquid Lipstick is fantastic when I am on-the-go because it literally does stay all day. It's lightweight enough that my lips don't dry out, but has enough pigment to it that I don't have to re-apply all the time.
If I am running out the door and want to be a little more glam, then I opt for a bold red lip to feel instantly chic! I love this particular color from MAC Cosmetics, because it the perfect shade of red  — Not too orange and not too crimson!
essie nail color in limo-scene
Just like my lips, I love the look of light pink nails! Light colored nails are my go-to because they work with almost any outfit, or any occasion. Going for a manicure when I have the time is a treat, but when I am on-the-go, I make sure to keep a bottle of essie light pink polish around!
Burt's Bees Facial Cleansing Towelettes Cucumber And Sage
These Burt's Bees wipes are a staple in my purse! They cleanse the face and remove makeup without any harsh irritants, and won't dry out the skin. I also love that I can use them on my kids in a pinch!
One of my most cherished items is a gold bar necklace with the names of my children engraved on it that jewelry designer Jennifer Meyer gave to me. No matter how dressed up or down I am, this necklace always makes my outfit complete!
This Bobbi Brown concealer does wonders! When I don't have time to put full makeup on, I use a tiny little bit of it, and can instantly cover up tired eyes or skin imperfections. Of all the different kinds of concealer I have tried, this one definitely gives me the best results!
Let me know what your favorite on-the-go beauty products are!  
Xo
Tamera
Save
Save
Save