As much as I love to accessorize – personalized jewelry is one of my go-tos – I also like to keep things intentional. And believe me, with all the pretty bags out there, an accessory obsession can easily spiral out of control. When it comes to bags, there are a couple styles that do the work of many. I think even the most minimalist ladies will agree… These three are a requirement for any bag collection.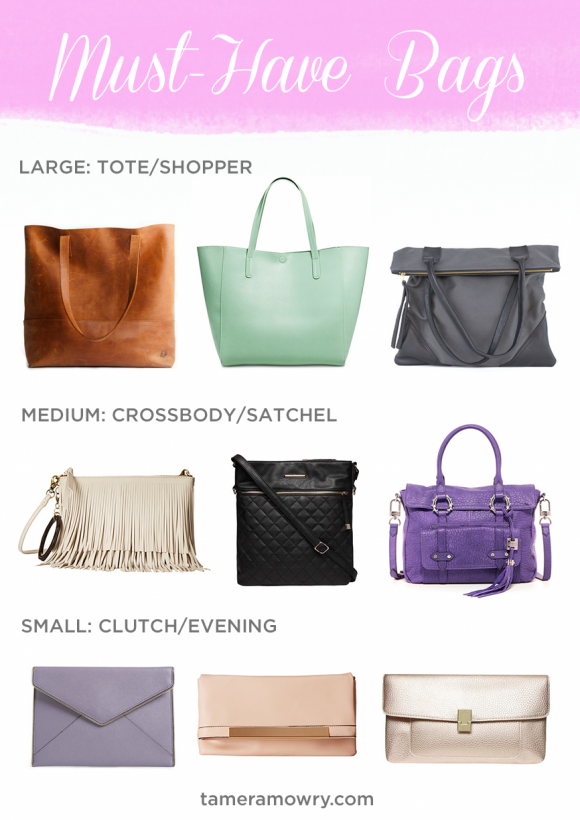 Mamuye Tote / Mint Reversible Tote / Large Leather Canvas Tote / Sam Edelman Fringe Pouch / Large Quilted Crossbody Bag / Mindy Leather Satchel / Leo Envelope Clutch / ALDO Blush Clutch / Champagne Pocket Clutch
With handbags, I like to be practical. Don't get carried away with fabrics or styles – just yet. That cute but teeny zip pouch may be calling your name but is it going to fit all the essentials? Probably not. Then again, no woman wants to lug around a huge bag on a night out! That's why these three sizes are the first thing to consider. Then it's onto the styles that suit your outfits best.
Large Bags 
When it comes to large bags, totes or shoppers are the way to go. They're lifesavers when you have to throw in everything from your keys to snacks to a huge planner and more. The inside may look like a hot mess but the outside is what counts, and it looks chic as can be. The best part is that they generally have long enough handles to throw over your shoulder without discomfort. I like the more structured styles because they dress up an outfit but the fold over or slouchy types are perfect for a casual look.
Medium Bags
Medium bags come in so many styles – trust me, you could lose days searching for them on Google! Because satchels come both in structured, petite shapes and more roomy designs, you really get to choose what works with your current contents. The larger ones (like #6) can actually fit just as much as a tote and it doesn't look as much like you're headed to the mall. But crossbody bags – and I think all moms know this – are easily the most convenient and convertible to tote your belongings… Except maybe a fanny pack (but let's not go there…).
Small Bags
Let's be honest, small bags are often fabulous but really impractical. Don't get me wrong, I love them for special events and date nights, but they don't get that daily wear. So when shopping for a clutch or evening bag, I don't look for what can fit the most or handle everything, but what will really complement my formalwear. I absolutely love feminine, elegant dresses – so you can see how they influenced my bag picks (LOVE that envelope clutch). Unlike other outfits, the evening bag is likely one of only a few accessories you'll have with you at big events, so it can be a big decision!
Now, I have a trick for you: If you can't decide on a size, dump all the contents of your current purse out on the table, and see how much space it all takes up. Once you remove all the stuff you didn't even know was in there or can be tossed, you might even find a smaller bag is all you need!
What is your bag of choice? 
Xx,
Tamera