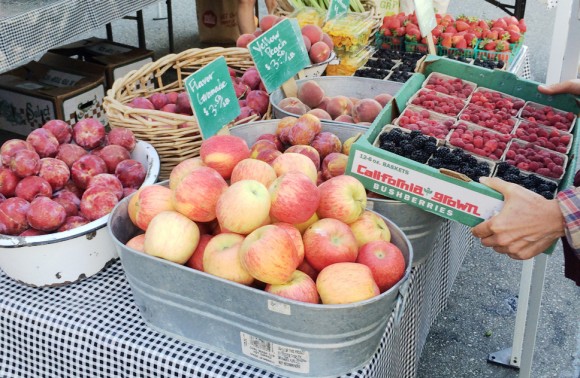 There is nothing quite like visiting a local farmers market. It seems like such an ordinary event, but I love supporting local growers, spending the day outside, letting Aden play in the kids area (depending on which market we visit) and knowing that I'm bringing healthy, no GMO foods into our home. It doesn't hurt that a lot of the produce is actually cheaper than at retailers, which is always important when on a grocery budget.
Every farmers market is different, but visiting one in your area is likely to expose you to fruits, veggies, cheeses and even herbs and teas you won't find elsewhere. Flowers, jewelry and other crafts from local artisans usually make an appearance at these weekly markets as well. I personally like being able to engage with the sellers when wanting to try something new. And while LA has so many markets that on any given day I can attend one, I also like to see familiar faces and know that I'm getting great produce from my favorite sellers. 
If you haven't yet experienced a farmers market, you can really get lost in all of the booths, so I suggest you take a lazy afternoon to attend your first and remember to bring cash, since many booths don't accept cards. When Aden gets older I'll be even more excited to take him along and use the experience as an educational one. He'll learn about where local foods come from, maybe try some things he hasn't had before (though my boy will eat just about anything) and hopefully we can use these trips as a segue into teaching him to cook!
Finding a market near you is easy, just search your area on a farmers market finder. I guarantee there is one closer to you than you think! If you can't make it to the market, but still want to enjoy the spoils of fresh foods, then look into a farmers market delivery service. They are a blessing when too busy to attend the market. A quick Google search is sure to turn one up that ships or delivers directly to you. 
Have you attended a farmers market in your area? What's your favorite part? 
Xx,
Tamera