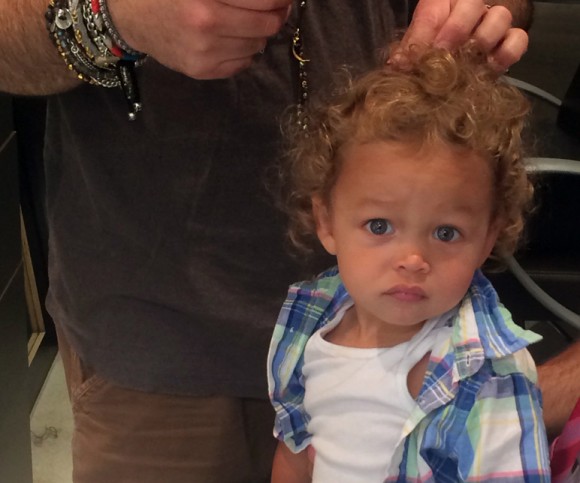 Cutting your child's hair for the first time can be an emotional event. And not just for your little one, for momma too! Big scissors, loud noises and unfamiliar places can scare your child. While realizing your baby isn't a baby any more or saying goodbye to curls can be nerve wracking for you. But no matter how stressful it may be, at some point, your little one needs a trim. This last week, it was Aden's turn.
I'm absolutely in love with Aden's curls so I was in no rush to get his hair cut, but his hair was growing…and it was growing fast! Thank God for my curly hair doctor Shai. Shai, who owns Capella Salon, is known as a curly hair guru. He's the one that gave me my big chop when I decided to go natural, and I knew he would be perfect for Aden's first haircut.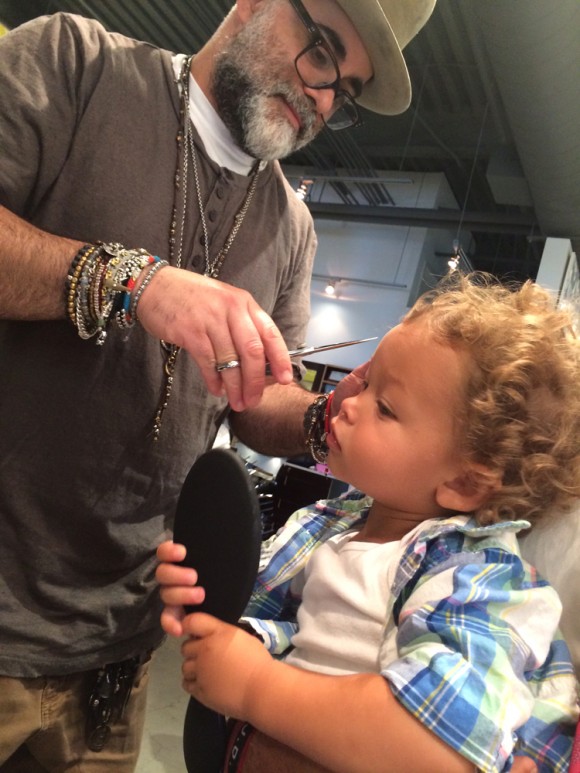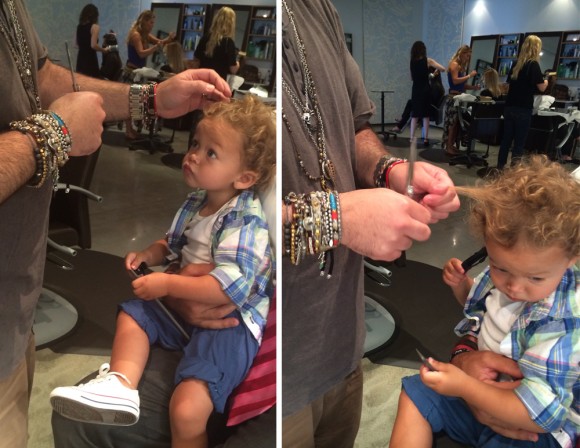 I was so proud of my Aden. He didn't cry at all. He was a fidgety little one, so he sat on Daddy's lap the whole time. But Shai handled him with ease and in the end Aden loved his cut so much. He was even eager to make another appointment. :) Shai, thank you for being so understanding!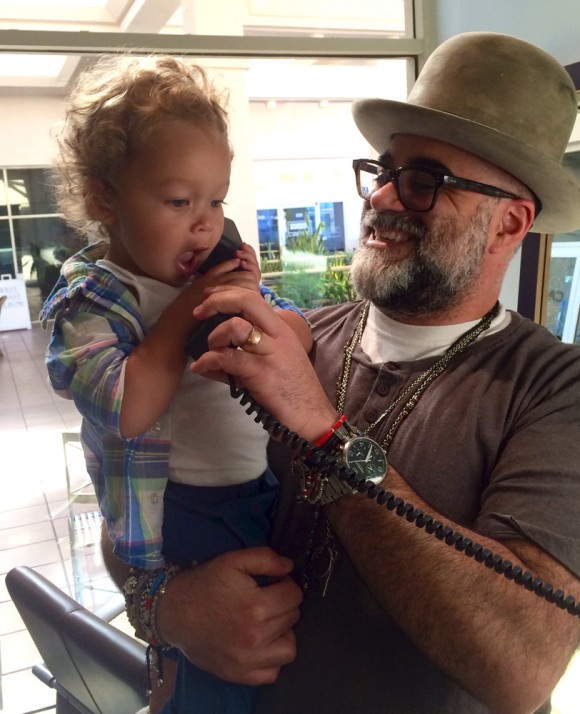 The experience did make me think about ways to keep your little one put while getting their hair cut so the stylist doesn't end up accidentally taking off more than intended. These 3 ideas should keep your kiddo still during the process. You can use these ideas for other "sit still" situations as well!
A designated toy – If you give your little one a toy during the cut they'll be less likely to wiggle around. If you select one toy to use repeatedly with activities that they don't particularly like, they will become more comfortable with the situation. We gave Aden a toy so he would stay distracted during his cut. This is also a great way to keep babies in place while changing diapers!
Watch a video – Adam and I aren't ones to sit Aden in front of a screen often, but in limited spurts I'm much more comfortable with it. Hair cuts can be botched with too much movement and as a mother, that's the last thing you want to happen. If you can turn a show on your smartphone and let your little one focus on their favorite characters, your trip will go much quicker.
Carry a comfort item – Keeping your child distracted with the two tricks above will help them to be still, but sometimes they need a little something extra. If they have a blanket or a doll they don't let out of their sight, bring it with! Just the ease of knowing their security item is with them will calm their nerves and give them something to hold on to or focus on instead of being scared by the new noises and setting.
In the end, I considered the experience a success. Aden still has his curls and he wasn't scared of the experience. And, yes, I kept his cut curls in a cute lil envelope to show him when he grows up. How could I not!? :)
How was your first cut experience with your kids?
Xx,
Tamera