Between spring cleaning and checking in on those New Years resolutions, this time of year is a great opportunity to get refreshed. Inspirational reading always gives me a new perspective on life and I'm always up for getting lost in a good book. Anyone feel the same? I rounded up 9 interesting books – both from this year and before – that are sure to refresh your outlook on womanhood, motherhood, marriage and life in general. Let me know what you think!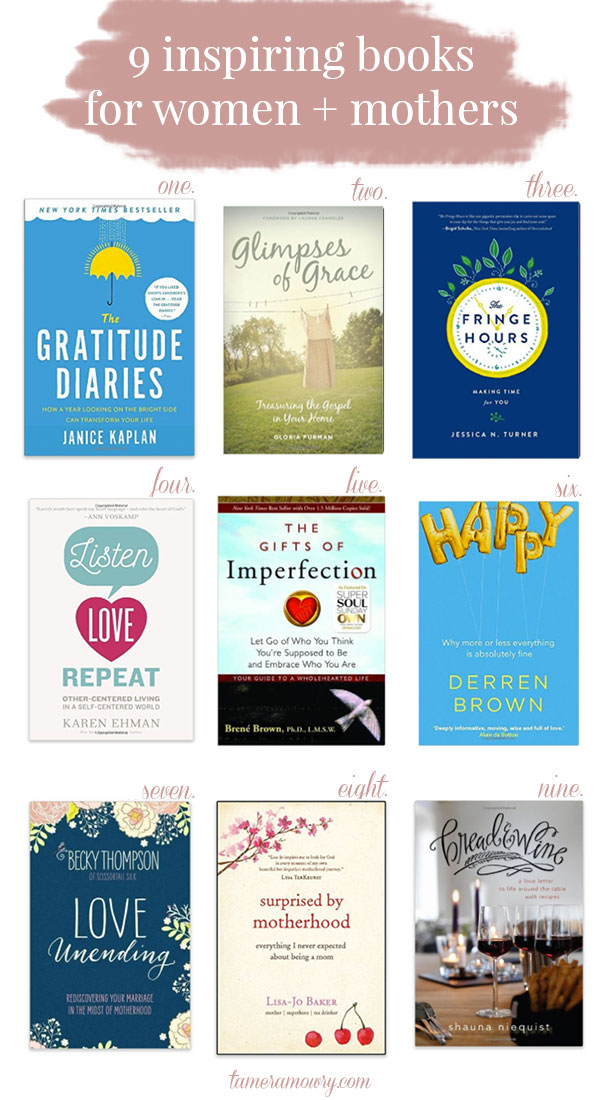 1. The Gratitude Diaries: How a Year Looking on the Bright Side Can Transform Your Life by Janice Kaplan. You know how important I think a positive outlook can be, but sometimes that's easier said than done. In this book, you will learn just how much gratitude affects your own outlook on life – from the perspective of someone that's experimented with it personally and researched it extensively. Gotta love seeing New Years resolutions come true!
2. Glimpses of Grace: Treasuring the Gospel in Your Home by Gloria Furman. This book is all about how to appreciate the little moments in life. It's so easy to get stuck in a rut, but that's life – it's not about making every moment exciting, but learning to appreciate even the not-so-thrilling ones.
3. The Fringe Hours: Making Time For You by Jessica N. Turner is for the woman that is always taking on everything. You know you need to make time for your interests and passions, but there doesn't seem to be a minute to spare. Turner helps you make the most of the tiny moments that could be used for you.
4. Listen, Love, Repeat: Other-Centered Living in a Self-Centered World by Karen Ehman. If you're not completely happy or just feel like something's missing, Ehman provides a solution: giving. How being kind and lending a helping hand – even in the smallest ways – can lead to our own fulfillment. This book is based on the idea that living a self-focused life is what really leads to unhappiness, and loving others is the key to joy.
5. The Gifts of Imperfection: Let Go of Who You Think You're Supposed to Be and Embrace Who You Are by Brene Brown. Brown has written many things since this book came out, but this one is a must whether you've followed her work or are just now discovering it. It's not just the motivation you need to feel more comfortable in your own skin, it's a tried-and-true approach to finally living the statement "I am enough".
6. Happy by Darren Brown is a good basis for a lot of the topics the rest of these books tackle. Instead of just striving to be happy, Brown helps us find out what happiness really is, and why we want to achieve it.
7. Love Unending: Rediscovering Your Marriage in the Midst of Motherhood by Becky Thompson. The first line you'll read when researching this book is "How can I remember how to be a wife when it takes all I've got to be a momma?" Thompson just gets it – sometimes we don't feel like we can give each and every part of our lives our all, including our marriages. With 21 days full of inspiration and challenges, Thompson helps you rediscover the love that brought you to this point.
8. Surprised by Motherhood: Everything I Never Expected about Being a Mom by Lisa-Jo Baker. I've said this before and I'll say it again – no two mothers' journeys are alike. This memoir from the perspective of a woman who never thought she was fit for motherhood is sure to inspire any mom who has questioned her journey along the way.
9. Bread and Wine: A Love Letter to Life Around the Table with Recipes by Shauna Niequist. Lastly, this book focuses on the kitchen table as a way to anchor the relationships in our lives. Party memoir, part recipe book, it's all about the way meals don't just nourish us, they bring us together. A good book and tasty recipes… You can't go wrong. ;)
Have you read any of these books? Let me know which books are inspiring you lately.
Xx,
Tamera