You don't have to necessarily have a picky eater on your hands to struggle getting your little ones to eat their fruits and veggies and other healthy meals. I don't know how or why, but children figure out early on that if it's good for you, it must not taste good, and they stay away! Lol. Over the past couple years I've developed methods for when Aden's feeling stubborn, and I totally plan to use these tips on Ariah when necessary!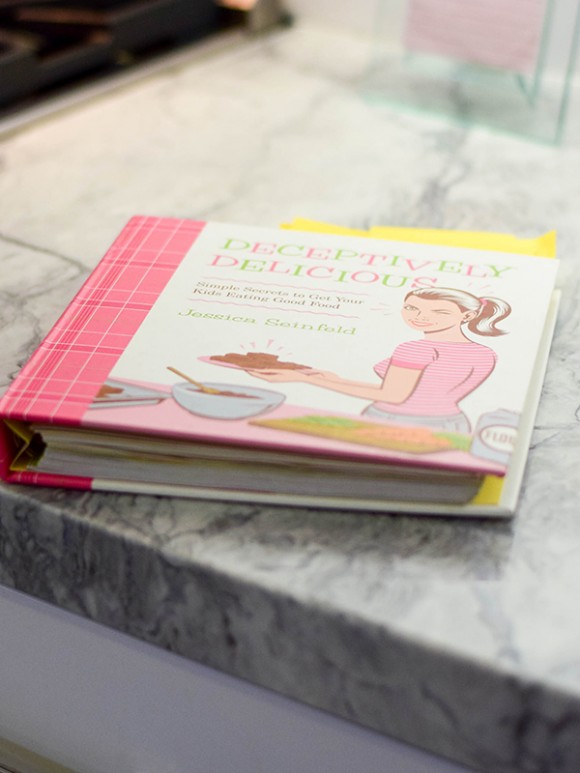 Give them a choice. Most kids (okay, people!) will choose a cookie over a banana in a heartbeat. But if there's two different healthy options in front of them, there's a good chance they'll forget about any alternative they can't see and just focus on the task at hand: making a choice. Giving children a choice allows them to feel more in control of the situation, and even like they're helping with the meal planning and prep.
Get sneaky with ingredients. Obviously the first method isn't always going to work – who hasn't dealt with kids who flat out refuse to eat certain things? Luckily sometimes it only has to look like a favorite dish to be kid-approved. This little trick is perfect for those meals that are healthier versions of family faves, like the sweet potato pancakes from my most coveted kids' cookbook, Deceptively Delicious. Having a cookbook on hand really helps in those panicky, "He won't eat anything" moments, but over time you'll find which healthy ingredients you can get away with sneaking in, no questions asked.
Go in as a family. Kids are smart; it's a blessing and a curse! If they don't see the broccoli being eaten off your plate, they won't be touching theirs. If they see you hitting the cupboards during every TV commercial, they'll assume that's just a good way to pass the time. You don't have to wage an all-out war on sugar (it really depends on your personal diet), but in general setting a positive example not only helps kids form good habits, it keeps moms and dads in check with their health goals too. There are a lot of reasons parents want to set a good example, and this one is especially rewarding.
Got any sneaky tricks to share when it comes to kids' diets? Let me know!
Xx,
Tamera