Opting for higher quality food often means buying organic – food without added hormones, antibiotics, and most chemical pesticides and fertilizers that could be harmful to consume. While there are many ways to eat healthy on a budget, choosing organic can still stretch the wallet. Unfortunately, in order to eat food with fresher, natural ingredients, it generally costs more, since most food doesn't contain the best ingredients, so it's cheaper to make and sell. I always think of this "you get what you pay for" mentality when grocery shopping, but as someone who tries to save money whenever possible, I know it isn't always realistic for all to buy exclusively organic.
It doesn't matter whether you want to go organic because you prefer the taste or hate the idea of chemicals on your food (that hang around despite washing) – if you are truly interested in going organic, make the most of it by learning which foods to incorporate into your budget and meal planning first, and what resources are available to you. This way you'll know when it's most helpful for you to buy organic, and when it might not be necessary.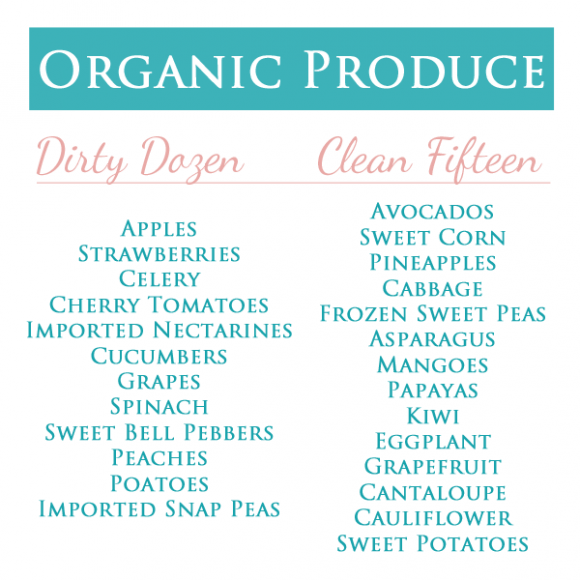 The Organic Essentials
Did you know that organic meat and dairy products are generally more important to purchase than produce? Therefore, if your budget only allows a little wiggle room, opt for organic meat and dairy first. Organic chicken and beef usually means they won't be treated with antibiotics, growth hormones, or fed questionable food themselves (we eat what they eat!). They're also usually raised in more humane facilities and support local farmers, though you should check the label to be sure.
Some milk is still treated with hormones that could be linked to increased risk of cancer. (The hormone rBGH is actually banned in other countries but shows up on some US milk.) You don't always have to buy organic milk to avoid this, but it does guarantee a product treated without those iffy growth hormones.
The Dirty Dozen
The EWG's (Environmental Working Group) annual list of 12 fruits and veggies you should always buy organic is one of THE best resources. If you can't or don't want to purchase entirely organic, but want to make sure to steer clear of produce that has retained much of its pesticides – you can use this list of 12 items that are known to contain the highest concentration of pesticide residue. Choosing to buy these organic instead is really the only way to know they won't have those chemicals on them when you buy.
The Clean Fifteen
Also, the Clean 15 is the list of general produce with the lowest amount of pesticide residue and considered much safer than the ones above. Basically, if you're writing up your budget, it's totally OK to go non-organic with these if it proves cheaper. Keep in mind both lists are updated annually, so check back at EWG.org for next year's Shoppers Guide. 
What's your take on buying organic? I'd love to hear your thoughts!
Xx,
Tamera