Did you get a chance to see Ariah's Year In Review that I posted this week in honor of her birthday? I can't believe how fast time flies, and how strong our relationship has become over just one year. Looking back at everything—all the family outings, all the precious little moments at home, all the things we've conquered together—I'm really just blown away by what can happen in 12 months! So for her birthday, I wanted to share a message about all that having baby girl has taught me…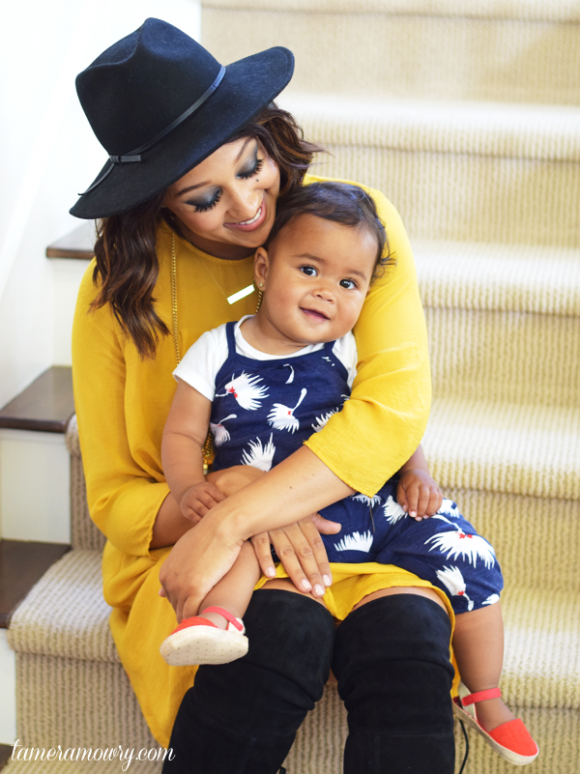 First and foremost, Ariah has taught me to find joy in everything, that it's wherever you choose to look. I've said it many times, but she is a truly joyous girl. I have no doubt that she will grow up with a grateful heart, because even the littlest things make her happy. I've always considered myself a positive person, but she has taught me to find joy in unlikely places, and not to let negativity bring me down. Like all little ones (and grownups too), she becomes frustrated at times, but she feels it, and then moves on. She doesn't hang onto it. She is a ball of pure love and joy, and her presence has made me more loving and joyous.
Ariah has also taught me about myself. Now that I have my own mini-me, I feel like I'm looking into this new version of myself. I now see why Adam and Aden's father-son relationship is so strong—they not only mirror each other but learn from each other too. Ariah and I are the same. We have so many similarities, at times it IS like looking in the mirror. Seeing her own unique personality has made me look inward and be more open and receptive to another person's needs.
I've also experienced a whole new type of love: between mother and daughter. Much like friendship and family, it's deep and intimate, but in an entirely new and inexplicable way. Honestly, there are no words.
As much as I knew about being a mother before, as much as I learned about raising a son, I hadn't known this mother to daughter connection. It truly is a beautiful thing and I am so grateful that I get to be mother to both of my children. How amazing is that?!
Happy birthday, Ariah!
Xx,
Tamera